The inner turmoil is unreal.
I love New Zealand and I'm nowhere through exploring it yet. This adventure is almost over, but I'm not ready for it to be. I'm not ready to go back to reality. I should've scheduled this trip to be three times as long, or just up and left everything. But I had no way of knowing that I would feel this way 5 weeks into it.
NZ… it's not completely off the map.
I'm a little disappointed that New Zealand so much like the US. Yes, there's scenic beauty, but the day-to-day life is very similar. I'm not sure if I was actually expecting an undiscovered world with elves and hobbits, but as I was driving around the farm today on a 4-wheeler in the middle of story-like beauty– Hobbiton itself, in fact–it didn't feel right. All day today I've been struggling with the fact that these mythical places only exist in stories. The world is a more technologically advanced place, but it is also a much darker place.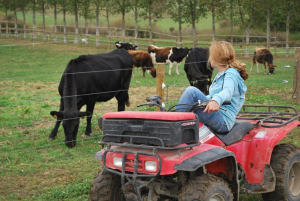 I want to go on a multi-day hike, sleep under the stars. But I do not want to be a hippie and get in tune with nature by smoking some of it.
And then there's Nashville. My beloved adopted city, wrecked in a weekend. It sounds bad– really bad. I saw pictures of the inside of the Opryland Hotel and it broke my heart. I can't believe some of the pictures — it's like living in an alternate universe. I'm not sure what I'll be coming back to.