Memphis never has been a city that intrigued me. For some reason, I held this begrudging view that Elvis was the best thing that happened to an otherwise terrible place.
You see, we Nashvillians and Memphis(ites?) have a pretty good Tennessee city rivalry going. Nashville has superior neighborhoods, shopping, food, professional sports, and obviously better music (this is Music City after all), so what's the point in wasting gas to visit an inferior, crime-ridden place like Memphis?
Kidding, obviously.
Despite my passionate disinterest, when Gunner's massive Southeast US road trip took him through Memphis for a weekend, I couldn't balk at the opportunity to see him and explore a new city, even if it was Memphis.
After eating the food, walking the streets,  and hearing the music, my perspective began to change.
This list is responsible for the small part of my heart that was captured by a nearby place that took me several years to visit. It's what changed my mind about Memphis – and it had nothing to do with Elvis.
The Barbecue Nachos at Central BBQ.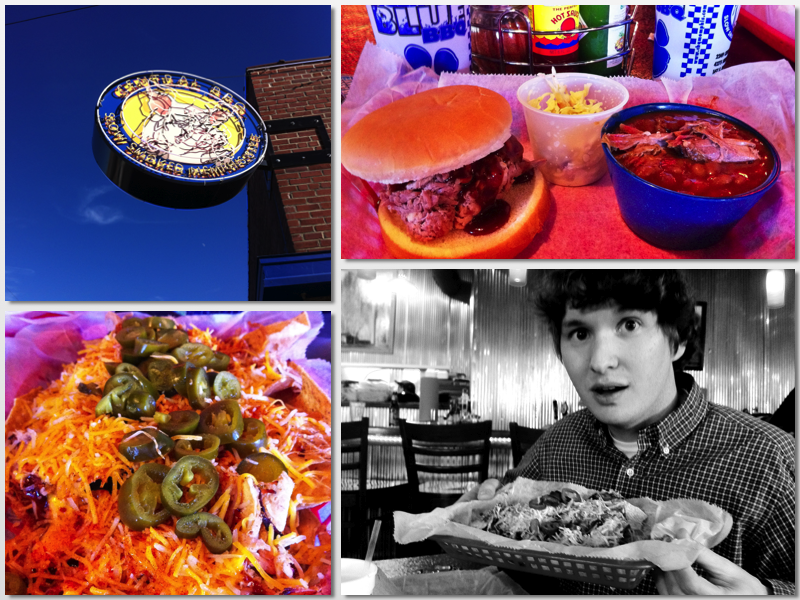 It sounds a little strange – my expectations were low – but the barbecue nachos were so decadent and tasty! Barbecue steeped in a mild sweet barbecue sauce, topped with cheese and jalapenos…it's the first time since New Orleans that I've had a real food epiphany. What do I mean by that? I mean I will definitely return to Memphis – if only for the barbecue nachos.
Visit the Lorraine Motel.
Just across the street from Central BBQ's downtown location is the Lorraine Motel, where Martin Luther King Jr. was assassinated on April 4, 1968. The museum was under renovation when we were there, but even still, seeing that motel balcony in person was just as moving. It's hard to believe the racist society MLK fought against was within my parents' lifetime, and even more unfathomable is that the assassination happened less than 20 years before I was born.
If you're in Memphis, it's definitely worth a stop to pay respects to one of the greatest American spirits to have lived in modern history.
Within the Lorraine Motel is the National Civil Rights Museum, which does charge an admission fee. ($10 for adults, $9 for students.)
Explore Mud Island.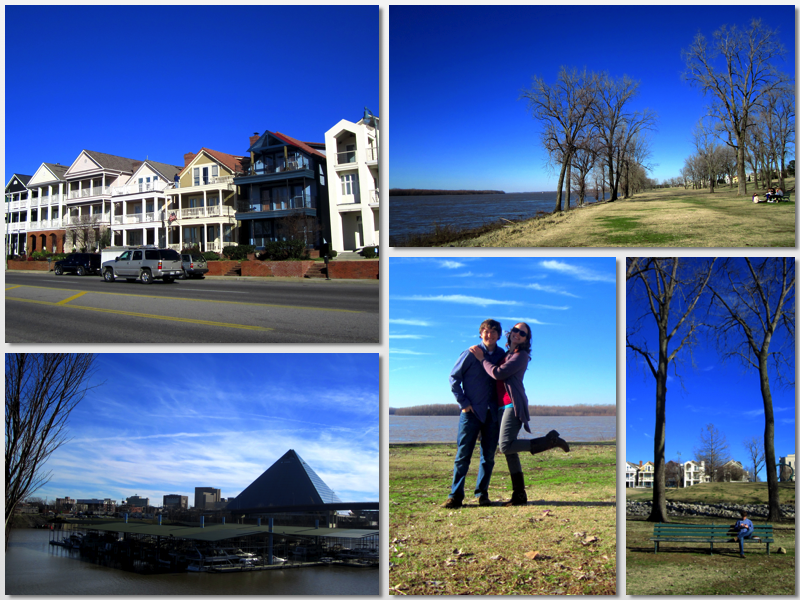 I raised my eyebrow when Gunner suggested we go to Mud Island, a neighborhood just outside of Memphis. It is an island situated right on (in?) the Mississippi River, and contrary to what its name suggests and my initial mental image, it's not a gross or dirty place at all –  it's actually quite pleasant!
There's a nice waterfront park, perfect for a quiet afternoon spent reading, walking, or throwing the frisbee. The neighborhood has a Seaside feel to it: quaint architecture, immaculate landscaping, young and old running errands in their golf carts. There's a main center, with shops, restaurants and cafes… but be prepared to pay a little more than you would on the mainland.
Go on a tour of the Gibson factory.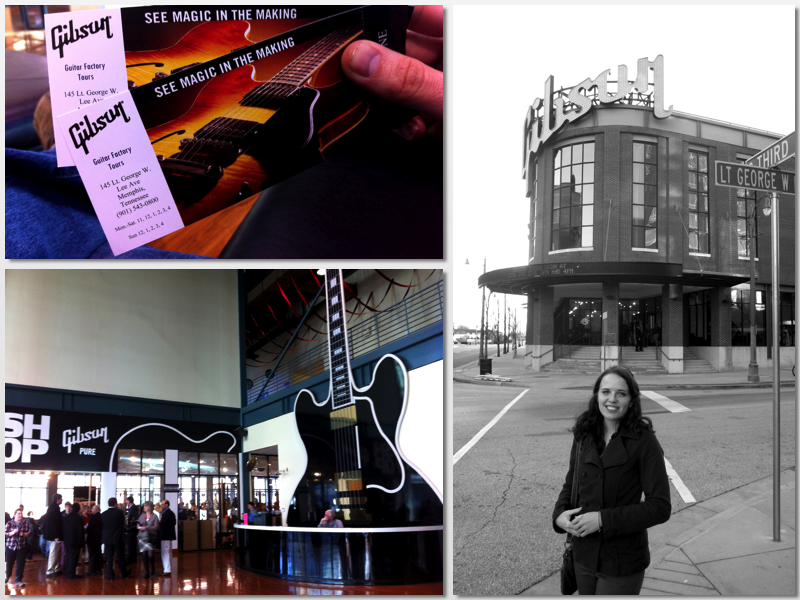 I was a guitar geek for a large part of my teenage years, and when we realized they were about to give their last factory tour of the day,  not going wasn't an option.
The tour is a cool behind-the-scenes look into how Gibson manufactures each of their hollow body and semi-hollow body guitars. The tour takes you through every step of the process, from the initial wood pressing to final inspection. While there were no workers present and the machines were off, our tour guide did a good job illustrating the transformation by giving us an up-close look at the woodwork in each station.
A word of caution: They are HIGHLY protective of their methodology. You will be escorted off the tour if you're caught with a camera, or even a cell phone. An entire scene was made over a nice Asian man answering a phone call. The tour stopped, security came, and he was promptly escorted off the premises – he may have even been quarantined – and he was never seen again. Perhaps they're trying to spare themselves the drama of another Ibanez debacle, but if they're that paranoid, why even have tours?
And, of course, have a drink on Beale Street.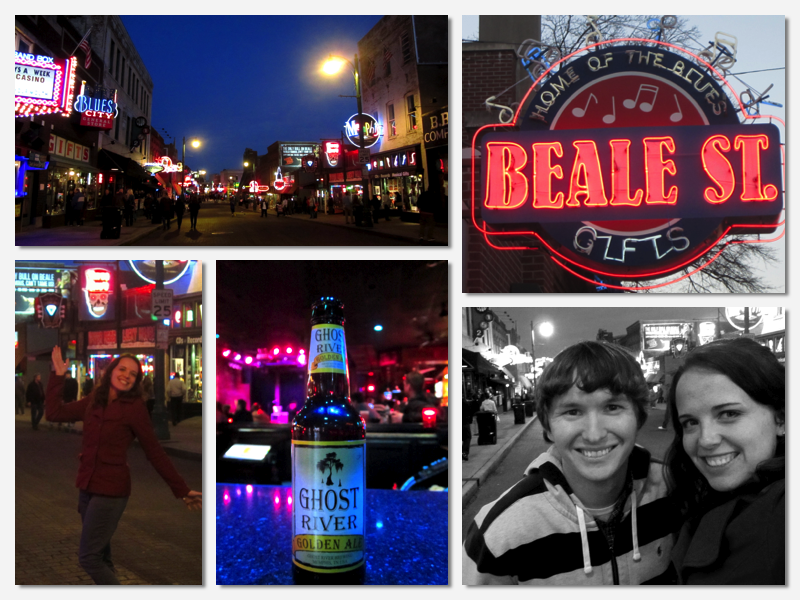 Beale Street is a block of touristy delight – very similar to Broadway in Nashville, or 6th Street in Austin. Blues music spills into the street in both afternoons and evenings, and with so many establishments in a row, it begs for a night of barhopping. It is a very short block, so it's feasible to visit most of the locations within an evening.
We sampled the local beer, Ghost River – which is brewed right on Main Street and is served in most bars. If you're into microbreweries, Bosco's is also based in Memphis. (Their beer selections are quite good, and while I didn't visit the Memphis location, their Nashville pub is one of my favorites.)
That's how we spent our Saturday in Memphis.
It was kind of a spontaneous itinerary, stumbling upon some places by accident and heeding recommendations for others. It ended up being the perfect mix of delicious food, musical appreciation, American history, and sunshine – all unique to Memphis. If it hasn't been obvious, I quite enjoyed my time there.
The lesson here is the old cliche: you never know if you don't go. I'd never know the tantalizing awesomeness that is barbecue nachos, and my taste buds are mourning at the thought. Seriously, you need to try the nachos – they're worth the trip!
Pin it: