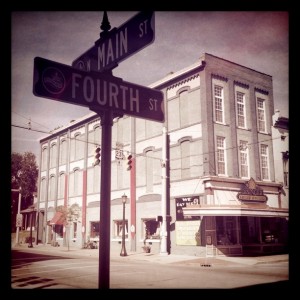 New York City and Chicago may have some of the best museums, parks, shopping, and restaurants cuisines in the country — but I believe the American way of life is best discovered in small towns. The last shoot for the new show I'm working on required we travel to a cattle ranch located just outside of the quaint small town of Huntingburg, Indiana.
Huntingburg is a charming small town located in southwestern Indiana, about an hour north of Evansville, an hour an a half west of Louisville, and two and a half hours southwest of Indianapolis. It's a little off the map for anyone driving through the United States via interstates, but if you find yourself closeby, it's definitely worth an afternoon. Surrounded by neighborhoods built in the 1950's and thousands of acres of farmland, Huntingburg is a snapshot of life in the Midwest. I've been to this part of Indiana once before for work — and somehow,  I missed the places that made me fall in love with the little town just a few days ago.
The Main Tourist Draw: League Stadium

"A League of Their Own" is a classic film, and it's one of my favorite movies. I didn't realize it until I saw a sign in a restaurant advertising the stadium– apparently, Huntingburg is home to the stadium where the movie was filmed. The location was chosen because the stadium had not been updated since the early 1900's, and it was the best match for the era.
League Stadium was donated to the community of Huntingburg upon the movie's completion, and presently, it is the home of the Dubois County Bombers, a professional baseball team in the Prospect League.
League Stadium is closed on Sundays, but is usually open during the week. The outfield wall is lined with advertisements made for the movie, and "Rockford Peaches" is painted on the stadium's walls.
Huntingburg Eats
Fourth Street is the main drag in Huntingburg's historical downtown, and it's home to multiple small restaurants that all serve quality food. While I was in Huntingburg, we ate at: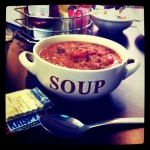 » Old School Sports Cafe: Best turkey chili I've ever had- the whole cafe is outfitted with jerseys and photographs from local teams.
» Mama T's Italian Food: We got the 4 for $24 for two massive dishes of pasta; it also comes with rolls and four warm, homemade cookies. I was overwhelmed by the size of the dishes! It's EASILY enough to feed four people. We had the fettucine alfredo and spaghetti with meatballs, and both were delicious. I also had the sangria, which was a disappointment — merely cheap red wine and grape juice. It was slow on the Sunday night we went, and our waitress was overly attentive and chatty…but the food was good.
» Cool Beans Cafe: Swanky cafe with free wifi and a great menu. They serve a burger on pretzel bread that is pretty dang good.
Antiquing on East Fourth Street
E Fourth Street has an array of antique shops and other novelty items, and at least an afternoon can be spent zigzagging down the street from store to store. The prices of items other than furniture seemed to be fair — but watch out for the prices of bookshelves and wooden pieces. They're beautiful pieces, but as I learned, they're a bit overpriced.
The Neighboring Town of Jasper
If you need a little more variety, the town of Jasper is 10 miles north on US 231 and offers a couple hours' worth of sights. Downtown Jasper isn't as charming as Huntingburg, but two main highlights include St Joseph's Catholic Church and the Schnitzelbank, an authentic German restaurant serving a Wurst Platter and German Sampler Platter for those who wish to try a little taste of everything. Warning: Portion sizes are supersized!
I spent half an hour walking around St Joseph's Catholic Church, and the architecture is stunning. It's a little piece of Europe, and while I find Jasper itself to be rather boring, St Joseph's makes the 10 miles drive from Huntingburg worth the trip.
It's a town tucked away in time.
There isn't the hustle and bustle of technology demanding your attention around every corner, and the newspaper boy still makes his route down the neighborhood streets, where the houses look the same as they probably did in 1962. The nearby farms are cultivated by families who work long days, seven days a week– but are proud of their accomplishments and truly enjoy the simple things in life. They sit around their table at dinner, and the TV is rarely on. Evenings are spent watching the sun disappear behind the rolling hills, and they check the internet about as often as they check their mailbox.
It's similar to the quiet life that I led growing up. Being in the country always feels like going home.
Getting away from the city can be SUCH a good thing (even when work is involved).