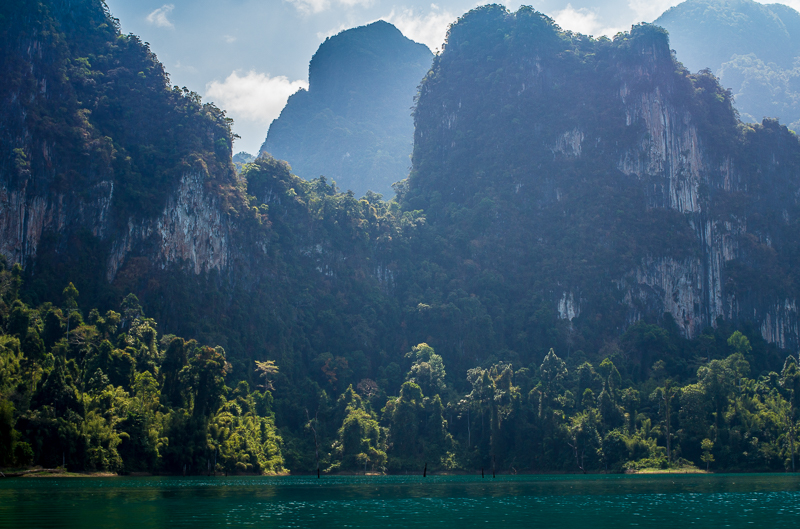 The limestone karsts of Southeast Asia have been calling my name for years. How I never managed to hear about Cheow Lan Lake at Khao Sok National Park until I was sitting on a longtail boat right smack in the middle of it is a mystery.
While we were in Bangkok, our guide had undersold an unassuming "additional trip to a lake" as part of our stop at Khao Sok National Park. The lackluster description and additional cost made me consider giving it a miss. Fortunately, I let my decision be swayed by group opinion, and I found myself in one of those rare instances when forking over the cash without doing any research yields MASSIVE rewards.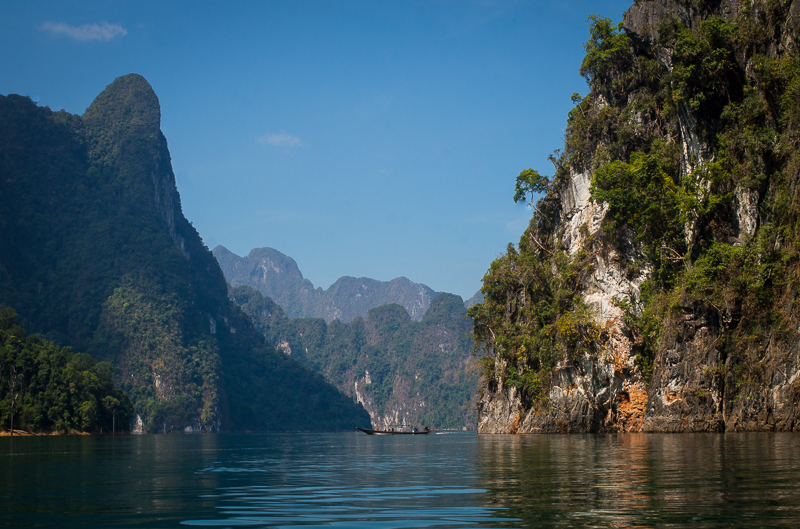 "What are your plans after Thailand?" one of my tourmates asked in one of the rare moments when my camera wasn't smashed against my cheek.
"Vietnam," I answered, my eyes continuously darting around in an attempt to take in each beautiful moment. "I have to see Halong Bay… although now, I'm doubting it could top this."
"More beautiful than Vietnam," our guide interrupted with an enormous smile. "More beautiful than China. Most beautiful in all of Asia."
It was only my fourth day in Asia, but I believed him. Cheow Lan was the most beautiful sight I'd seen in my life.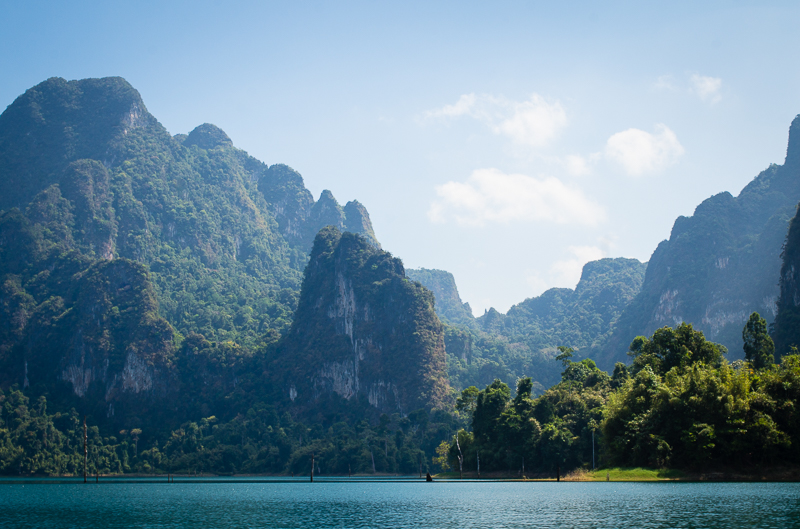 About Cheow Lan Lake
Cheow Lan Lake is located within Khao Sok, Thailand's largest national park. While the formations and rainforest of Khao Sok is estimated to be one of the oldest in the world, Cheow Lan Lake is man-made, created as an electricity source in the early 80's. There is evidence of this flooded landscape in shallower waters, where the tops of lifeless trees hauntingly remain.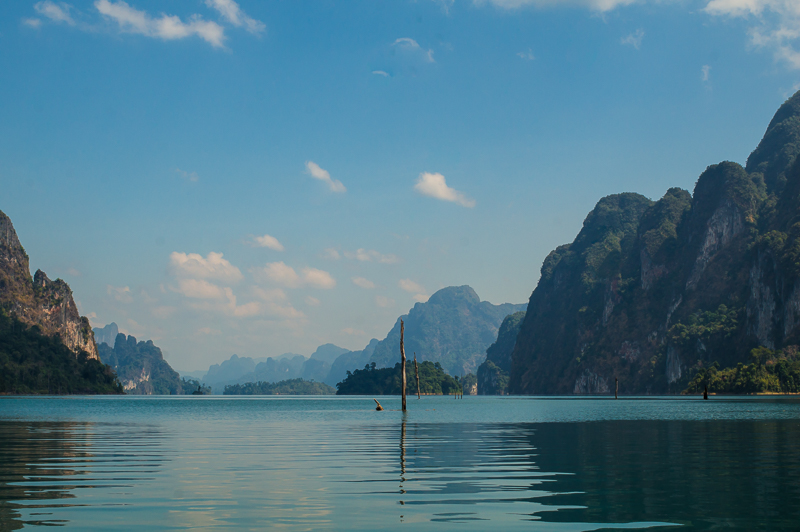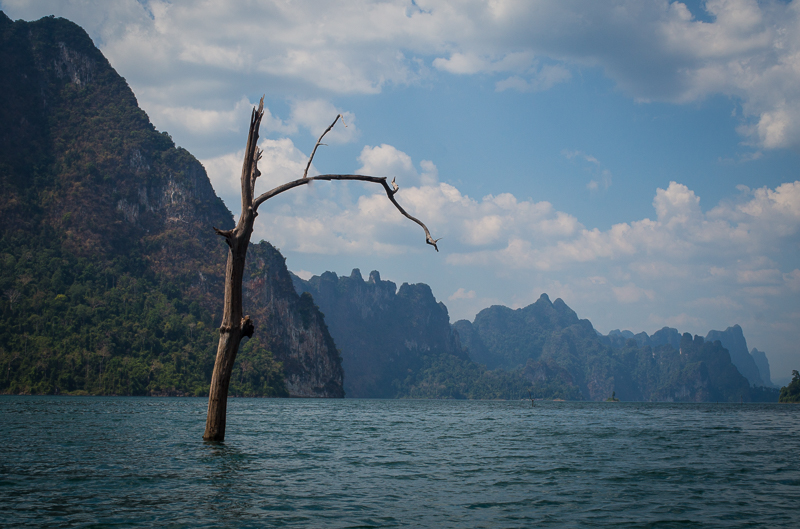 After cruising along for thirty minutes, and had seen zero evidence of civilization since getting on the boat. We passed one other longtail with four passengers. I was in a constant state of awe and disbelief — Where are all the tourists? Why isn't this on the cover of every guidebook? How do people not know about this?!
Just when my eyes were about to explode from taking in so much beauty, our destination appeared: Floating bungalows, microscopic in size at the base of the massive surroundings. We squealed at how remote, picturesque, and perfect it was.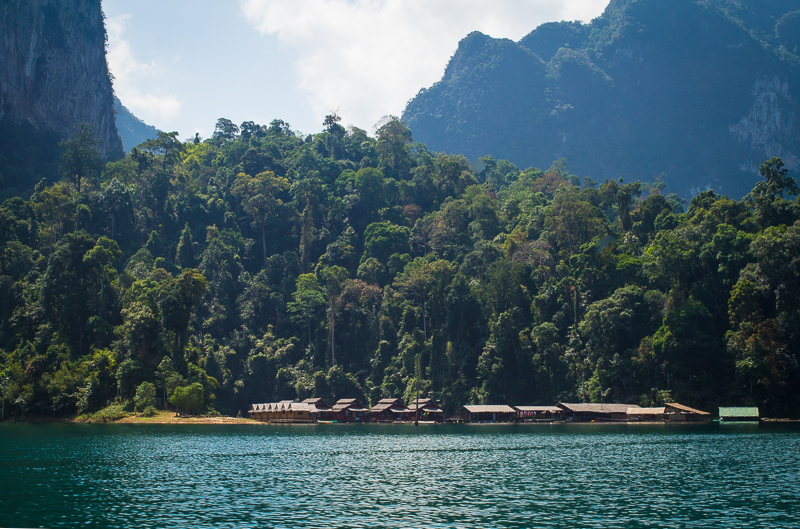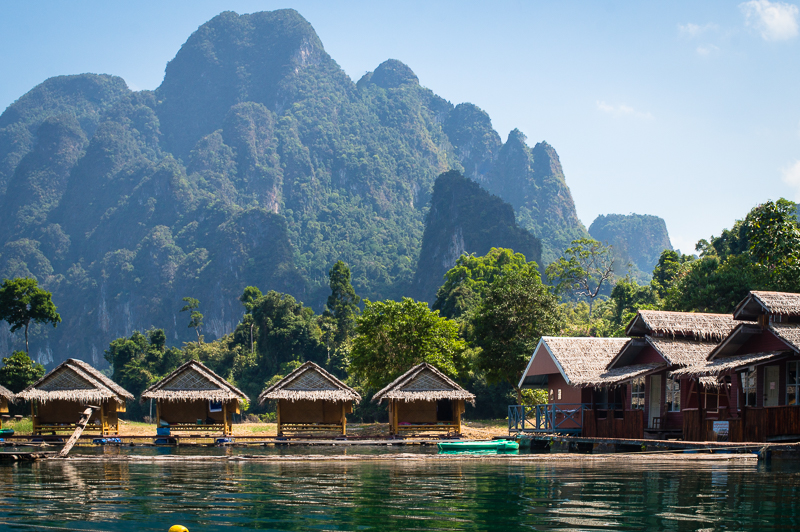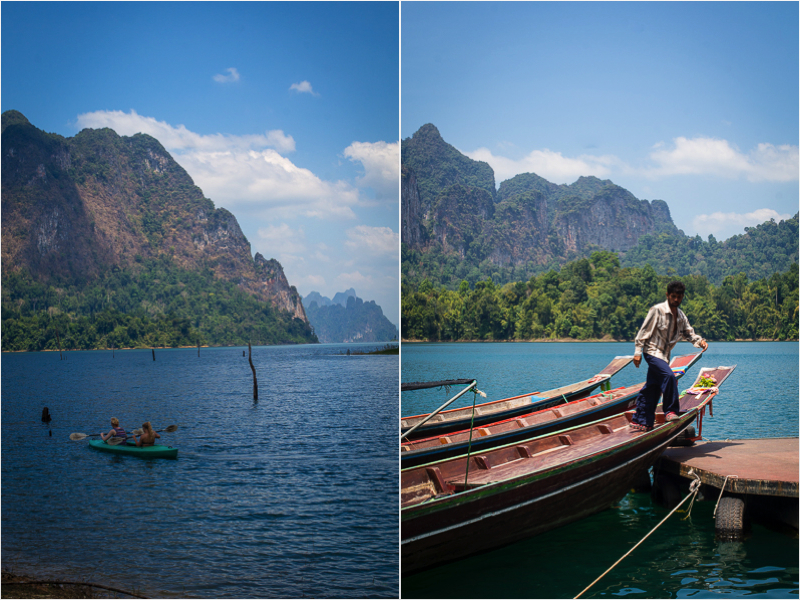 With the exception of a group of tourists that stopped by for an hour, we had the floating bungalows completely to ourselves. We basked in the sun, swam, kayaked, had a delicious lunch, and took hundreds of photos.
It was glorious.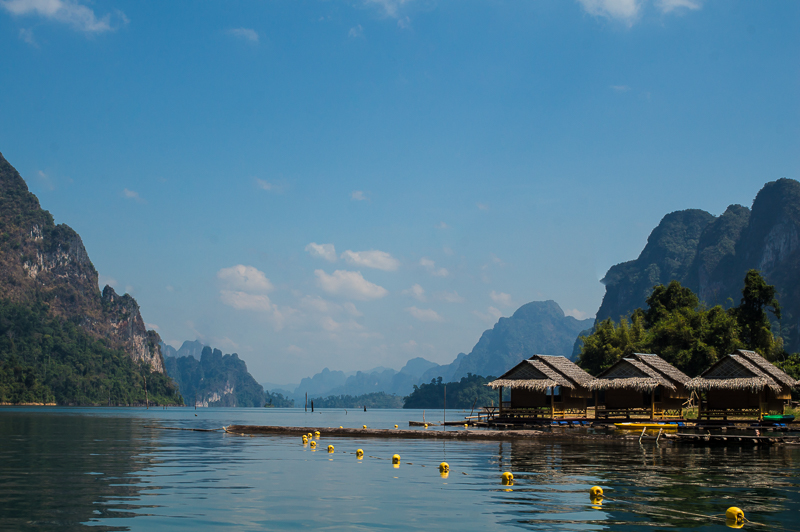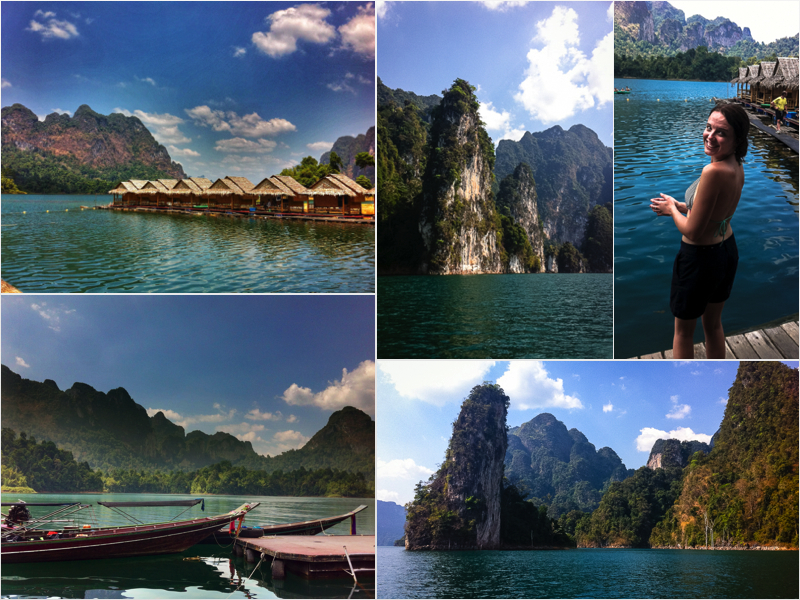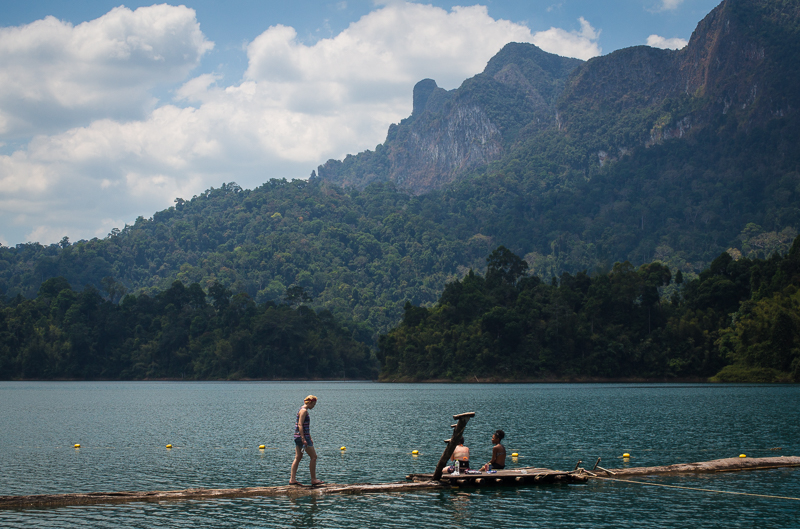 How Does Cheow Lan Lake Compare to Halong Bay?
It isn't always fair to compare destinations, but Cheow Lan has a similar draw as Halong: Spectacular limestone karsts shooting out of emerald waters. There are a few differences to note:
It's manmade: This is the only negative of Cheow Lan, but this knowledge didn't diminish the beauty for me. It's still spectacular, and I never would've been able to witness such a broad scale of jaw-dropping topography if it wasn't for the lake's existence.
Less tourism: Cheow Lan isn't the easiest place to get to, meaning there is only a fraction of the tourists that visit Halong.
It's unspoiled: Since Cheow Lan is a man-made lake in the middle of a national park, there aren't any barges, commerce, or fishing villages. It's peaceful — it's the experience I was looking for in Halong Bay.
The time of year is extremely important: Khao Sok is a rainforest, and its positioning between the Andaman Sea and the Gulf of Thailand means it gets massive amounts of torrential rainfall. The dry season is from January to April.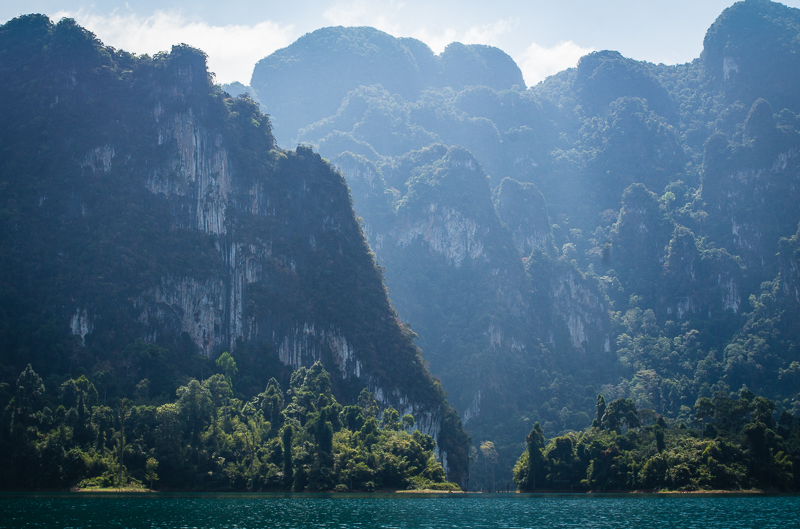 Getting to Khao Sok National Park
Thailand is magical, but the beauty of Cheow Lan Lake is otherworldly! If I hadn't been on a tour group with a rigid itinerary, I easily could've spent 3-5 days in the Khao Sok National Park area. There's so much to explore beyond just Cheow Lan, including several hiking trails through the rainforest.
How can you visit Cheow Lan? Khao Sok National Park is about 90 minutes from the Phuket Airport, and 2.5 hours from Krabi. Most guesthouses will provide tours to the area, and accommodation starting at $8/night for basic accommodation.  Do your own research, stay safe, and take thousands of pictures.
Go now. The infrastructure of the region is still very basic; years away from making Cheow Lan the next Ha Long Bay. However, with so many other places in Southeast Asia exploding with tourism, it's only a matter of time before this gem becomes a staple of the traditional tourist route.
Cheow Lan Lake was a 1500 baht ($50) add-on as part of G Adventures' Southern Thailand Sojourn.