>> March 2013 Update: Click HERE for the latest update on GoldFolds.
Exciting news, AD nation! 
For the last several months, it's been difficult to track down the illustrious GoldFold wallet. The GoldFold is the perfect tool for storing those awkward legal-sized callsheets without wrinkling, as well as any additional papers you'd need to have on your person while on a film set.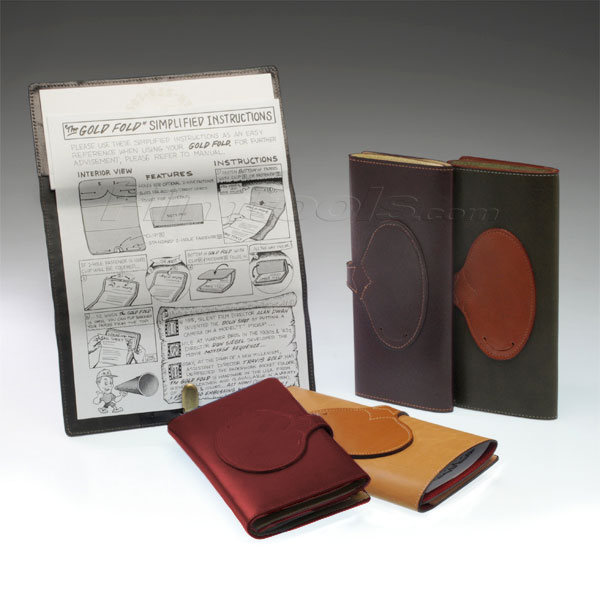 I've been trying to find a distributor to link to on my film gear recommendations page, but as anyone with Google has realized, it's impossible to find – let alone buy – these handy callsheet wallets. I also couldn't find any information explaining the absence of GoldFolds.
After following several dead links to FilmTools webpages, I decided to go straight to the source: Travis Gold himself – a 1st AD and creator of the wallet. Within an impressive 5 minutes, he replied to my email!
Travis Gold's response, as of January 2012:
Hi Laryssa. Goldfold is on a little Holiday of sorts. Gonna intro New improved line with Side carry mid feb. Subtle changes to Fold but side carry will be a terrific addition. Thank You
And, there you have it – just a few short weeks until these wonderful little callsheet wallets are once again available for purchase. I'm guessing they'll once again be distributed through FilmTools. Too bad we can't preorder, eh?
>> March 2013 Update: Click HERE for the latest update on GoldFolds.
. . . . . . . . . . . . . . . . . . . .
If you liked this post, subscribe to receive updates and stories about the film industry – or subscribe to my normal feed which includes all of my posts, including my adventures abroad!