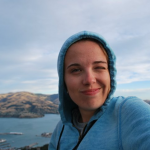 Hoorah! I made it to Middle Earth whilst reading the last few pages of The Hobbit. (If only I were kidding…)
Customs was pretty breezy, but more rigid than when I landed in Australia. They actually asked to see my itinerary/proof of onward travel — good that I printed it out 4 weeks ago, I guess!
I had to declare my food that I was bringing in from Australia, which consisted of: TimTams, Aero Bars, and two James Boag lagers. I initially forgot about the beer, told the customs agent, who shrugged, but then said, "Wait, is it Aussie beer?" I nodded. "Yeeccch!" he said. And then he added, "Well, better than Yank beer, at least!"
I give Christchurch a B-. Cathedral Square is OK, some streets look a bit European, but overall…not all that great. I took the gondula by Lyttleton and rode up to the top of the nearby mountain range (not the Southern Alps – the other one), and it was spectacular. No snowcapped peaks or anything, but grassy ridges and panoramic views in every direction. In Australia, I mourned my lack of a laptop, but I think here, I will always be wishing for a wide-angle lens. I'd size up a good image, look through the lens, think, "Oh, I must be zoomed in"– but I never was.
There were lots of hikes available all over the ridges of the mountain, which had clear paths and stepping stones but were rather spartan when compared to trails in the US, where it seems like they're designed for people with all kinds of physical ailments, including broken ankles and/or crutches. Here, you actually have to watch your footing and think before you step. Also, there aren't any guardrails.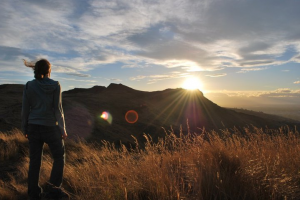 I'd be kidding myself if I didn't admit to feeling like I was trailing Aragorn and Legolas in Two Towers the entire time. It was easy to stop and look at a ridge in the distance and envision Wargs spilling over the top (none did, thankfully), hear epic music, or have flashbacks of random quotes playing in my head.
In the same vein…I gave in to my nerd desires and I'm venturing out to Edoras tomorrow with other nerds. I might put some additional effort in to look girly. Travelling is SO EXPENSIVE, and I'm so sick of spending money. I've spent a fortune in the last 24 hours for random things… food ($20), accomodation ($67), gondula ($23), 2GB SD card ($29), airport transfer ($17), phone card ($10) — and then there's the adventure to Edoras which is a day's wage in US dollars. Atleast it's only $.60 US to $1NZ…
I've spotted a one-way ticket from Los Angeles to Sydney for $509 in September. That might be a bit soon to come back — but if it might be perfect if I want to work the summer in NZ…