When I get asked what I've worked on, or what I enjoyed working on, I often have to rack my brain to try to remember and fail at coming up with any sort of intelligent or thoughtful response. In the beginning, when I only worked on one music video a month, it was easy to remember all the details: crew, location, director, artist, song title, actors, extras, etc. Sometimes, projects blur together and I have a hard time remembering the details.
So, this is a post summarizing some of the more memorable shoots (good and bad).
First Shoot Award
Mat Kearney's "Breathe In, Breathe Out"
It was my first ever on-set experience; as a wide-eyed intern who mistakenly sent an extra to the artist's RV. Whoops. Details of that job include:
Director: Roman White
Location: The Arcade, Downtown
Hours: 3pm – 6am; but I'd also started my day at 10am at the office…
The Kicker: I was an intern — an unpaid intern; but I was enthralled to be there.
The Other Kicker: This video was supposed to air during/after Grey's Anatomy, and I remember telling everyone to watch it — family, friends from home, classmates, etc —  because I was so insanely proud to have worked on it. Only, it didn't air when it was supposed to; got pushed an hour or a week or something, and they completely cut out the Alaskan girl because they didn't like her "look".
Highlights:
-spending many hours with Ryan Fuqua in the Arcade, using faulty knives to cut many many zip ties holding up American flags. I would later have to run to Wal-Mart to purchase more zip ties so we could re-hang them all.
– It was 35mm, baby!: That's right, I'm "old skool" enough to have worked a solid year in the presence of true "film" projects, before the dawn of the digital era.
Runner Up: Could also throw out a mention to my first paid shoot, Alan Jackson's "Small Town Southern Man".
Watch Mat Kearney – Breathe In Breathe Out on Vimeo.
Coldest Shoot Award
One Night Rodeo – "Alive and Living"
Before the days where I learned to spend top dollar on warm winter gear, I endured one of the coldest shoots of my life in February of 2009.
Director: The Brads (Blake and Potsy)
Location: Smyrna Airport
Temperature: 19 degrees in the hanger with a cold cement floor.
Highlights: Eric Williams gestured to the vending machines and stated, "Well, there's craft service."
Most Ridiculous Award
Josh Thompson – "Beer on the Table"
It wasn't the video that was ridiculous — it was the wrangling of all of the extras that was downright crazy.
Director: Wes Edwards
Location: Manufacturing plant in West Nashville
Why So Ridiculous?: The extras weren't actual extras; they were fans of the band — and there was at least 100 of them. And all of them, every single one, brought their own personal 12 pack of PBR. Wrangling 100 people can be a challenge, but it's generally easier than trying to wrangle 1 drunk person. So, yes; it was Drew Langer, Abby Lee, and myself corralling 100 drunk people that have never been on a set before, all the while trying to explain to them that they really couldn't be drinking on set, etc…and trying to explain where they needed to stand to "close gaps" in the wide shot..and how they couldn't leave during a take… and how they still needed to clap on beat…
It Gets Better: As we were preparing to move to the ending shot in the video — the reveal of the white 15 pass van — I discovered that the van was not on set because someone went to make a "beer run" in it.
Other Highlights: Seth Bradley, my good childhood chum was in town while this was being shot, and he came out for a couple of hours to take in the craziness.
Also, for the shots of the guy offloading concrete, Wes wanted some dust in the background. This was created by me doing donuts in the dirt parking lot — in Abby Lee's car.
Nice Guy Award
Chris Young – "Voices"
Without contest goes to Chris Young, a nice lad hailing from somewhere in Tennessee.
Director: David McClister
Location: Random house. Drawing a complete blank on the town we were in.
Back story: My role on this was essentially 2nd AD, meaning I had to handle all of the talent, which, in this particular video, was almost Chris's entire family. I met aunts, uncles, cousins, siblings, grandparents… everyone. I had to ensure the little kids didn't actually kill each other or themselves as they were running through the house. But all of the family were exceedingly nice and gracious, especially while I was learning their names.
Aww: One of the scenes features a shot of an angel food cake. During some down time, I was chatting with Chris and his family in the kitchen. There was a little bit of the cake left over, and I mentioned in passing to Sheila B. how I was going to track her down to get a slice. But, work got in the way as it usually does, and I was never able to get my own piece. Some time went by, I went about my business, keeping track of who was in the next shot and if they're actually around or if they're meandering off somewhere — and Chris sought me out with a piece of angel food cake. It was by far the nicest thing any artist or celebrity has ever said or done for me.
Other Random Details: The black mustang actually belongs to Tracy, a girl I went to college with and who is good friends with George, one of Gunner's best friends from college. Small world.
"Wow" Factor Award
Taylor Swift – "You Belong With Me"
Director: Roman White
Location: Pope John Paul II High School
This award is fairly self-explanatory, albeit boring and no real need for further elaboration. It's the music video I've worked on that has garnished the largest amount of attention, and has also received the most success.
Notes: Also shot to film; I was the lucky film courier who got to drive it down to CineFilm in Atlanta for processing. It's also been the only time I've ever delivered film.
Additional Notes: One of my random tasks on this job was steaming the purple curtains pictured in her bedroom. Not a wrinkle to be seen!
Yet Another Note: Wow… this video has over one hundred MILLION views.
Most Rock Award
Shinedown – "If You Only Knew"
I live in Nashville, home of country music. While there are a few rock videos that get shot here, they are, unfortunately, few and far between — at least for artists that anyone's heard of on a broad scale. I have not yet gotten to work on a Kings of Leon video as many of my colleagues have, therefore, Shinedown wins by default since they're uncontested.
Director: Ryan Smith
Location: Citation
Random Notes: Only one pigeon died. It was an old one — 18 years old. It got squashed by one of the mats that were around the metal structure. And yes, there was a "pigeon wrangler".
Other Random Notes: This was the first time I was entrusted to 2nd AD a job (for a PA rate and title, of course).
Shinedown – If You Only Knew (embedding disabled…jerks)
So Much For Intellectual Property Award
Emily Osment – "All the Way Up"
Of course the video was all Roman's idea, and obviously I didn't write the song. It was the lack of photographer credit that infuriated me.
Director: Roman White
Location: White Elephant Emporium (Ruby's Warehouse)
Random Fact: Video shot with a 5D, and looks pretty dang good.
What the heck are you talking about, Laryssa?: I was the behind the scenes photographer/stills photographer on that shoot. Brian Murie loaned me his 5D, and Norman Bonney had the place lit immaculately. All I had to do was point and shoot (well, and focus the lens and adjust the shutter speed/aperture accordingly) and I got a handful of pretty awesome pictures.
Get to the point? Those pictures were posted ALL of the web — my pictures. Yes, true, I did surrender the CD to the label and I was hired as a subcontractor, but really? Would it have killed them to put a photographer credit on at least ONE of the pictures?
One of those pictures surfaced on MySpace: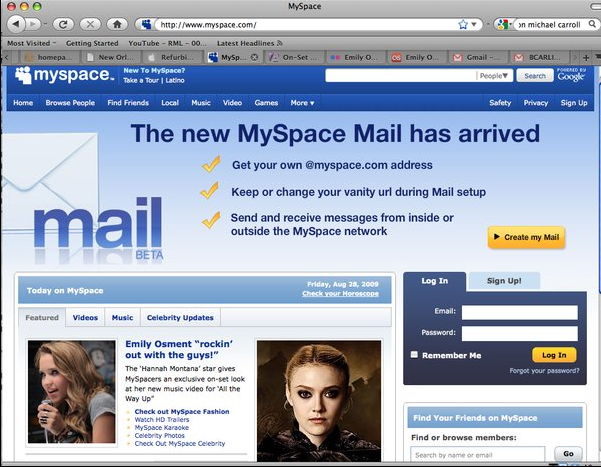 Her singing career didn't go anywhere, by the way.
Most Convivial Award
Thompson Square – "I Got You"
This was a tough one to award because I love my job and I love to laugh… and there have been a fair amount of enjoyable shoots that I've been lucky enough to be a part of.  "I Got You" probably stands out among the rest because I just worked on it six weeks ago, and any job with Ruckus is bound to be excellent. Brittany Hailes, Wes Edwards, Drew Langer? I would work that combination every day of the week if possible.
Director: Wes Edwards
Location: Nashville Public Television
Notes: Part of my task was finding a bizarre animal, and if we're Facebook friends, you may have noticed my status update a couple of months ago inquiring as to who owned a weird pet. Brittany and I toyed with the idea of "borrowing" a blue-tongued skink from Petsmart, but were thwarted by our own guilt as we would either have to 1) return it, (2) release it into the wild, or (3) keep it ourselves. Brittany also tried to track down a monkey with a diaper, but that didn't materialize , either. I met someone who had a friend that owned "sugar gliders", tiny flying squirrels — and I had visions of Britt and I  trying to wrangle three tiny flying rodents in a gigantic studio. So, as fate would have it, I worked at Ruby's warehouse the day before the Thompson Square job, where I met the now-famous iguana…and the rest is history.
Other Notes: Keifer is hilarious — a natural comedian and actor. Any scene where he's talking, and he was undoubtedly telling some sort of joke that had the crew rolling with laughter…or delivering some ridiculous dialogue in an accent.
Runner Up: Blake Shelton's (feat. Trace Adkins) "Hillbilly Bone"
Coolest Location Award
Brandi Carlile – "Dreams"
Maybe it's because New Orleans is my favorite city on the planet, and this was the first time I ever worked there… but the locations for "Dreams" easily top any other place I've gotten to visit for work.
Director: Roman White
Locations: Mardi Gras World and Audubon Park
Mardi Gras World (aka Blaine Kern's Mardi Gras World) used to be located in Algiers, just across the Mississippi River on the Crescent City Connection (driving to that location was the first time I've crossed the Mississippi by ground, not by air). It houses some of New Orlean's finest retired floats from past Krewes.
Audubon Park is a beautiful, expansive space, filled with majestic oak trees and the Tree of Life sits adjacent to the Audubon Zoo.
Driving around Uptown to get to work, eating red beans and rice for lunch, and getting paid to hang out in two of the coolest spots in New Orleans was just more affirmation for my career choice.
Cameo Award
Miranda Lambert – "White Liar"
Occasionally, a job will call for more extras than have actually been provided. One of these days was sometime in Sept 2009, the day we were shooting "White Liar".
Director: Chris Hicky
Location: North of Nashville
Michelle and I quickly changed into two of the brightest dresses the wardrobe lady had, giggling like school girls all the while.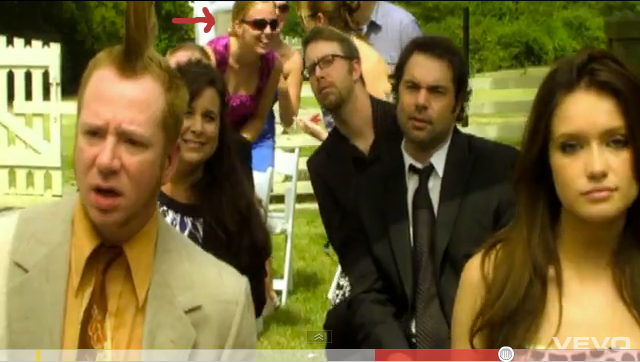 You can see both of us throughout the video — Michelle in the bright blue behind me, and me in that ridiculous pink dress.
Summary
I'm fortunate to have the job that I have. I love my coworkers, and every day on set is an adventure. Hopefully this has given you a glimpse of how I've been spending my time post-college, in addition to the occasional overseas jaunt.
There are a plethora of other awards that I have to give out, but feel it may be inappropriate to do so on such a public platform…so long as I'm in the business. Next time we meet up for a cup of coffee or a beer I'd be happy to share with you, if you're curious. (To pique your curiosity, one is the "Biggest Tool" award).