Mardi Gras is my favorite time of year. I adore the week-long celebration– full of costumes, delicious King Cake, endless drinks…and with varying levels of debauchery, depending on your style and inhibitions.
If you're celebrating Fat Tuesday in New Orleans this year, here are a few tips!

Get to the party early: Mardi Gras isn't just one day of revelry.
The Mardi Gras season begins on Twelfth Night, and it only builds from there: in the weeks preceding Fat Tuesday, there's more and more parades and events that ultimately crescendos the weekend before. Some of the best Krewes roll the Thursday and Friday nights preceding Mardi Gras. Muses is a favorite among locals, and my personal favorite is Krewe d'Etat, which is a parade full of political satire — on a local and national level.
krewe |kroo| noun.  A private social club that sponsors balls, parades, etc., as part of the Mardi Gras festivities.
Then there's the Super Krewes: Endymion, Bacchaus, and Orpheus. These three are known for their high-tech floats, intricate design, and elaborate costumes — as a result, they draw enormous crowds. Get there early!
Fun fact: Mardi Gras is privately funded by the members of the Krewes. The dues to join a Krewe are hefty, but it covers security, barricades, street sweepers, street closures, permits — and of course, all the "throws".
throws |THros| noun.  Items one can catch at a Mardi Gras parade, including but not limited to: plastic beads, speciality beads, doubloons, cups, toys, light-up trinkets at night parades, plus Krewe-specific items (Coconuts from Zulu, Muses throws specialty shoes, toilet plungers at Tucks).
Track the parades with WDSU's Parade Tracker.
I LOVE THIS APP. It provides you with all the information you need: Schedules, maps of parade routes, and even the chance of rain. Best of all, once the Krewe rolls, it tracks where on the route the parade is and keeps you updated if the parade is stalled somewhere on the route. The app really comes in handy when you've been waiting for thirty minutes after Proteus, wondering where the heck Orpheus is.
WWL has a parade tracker app as well — but I prefer WDSU's interface.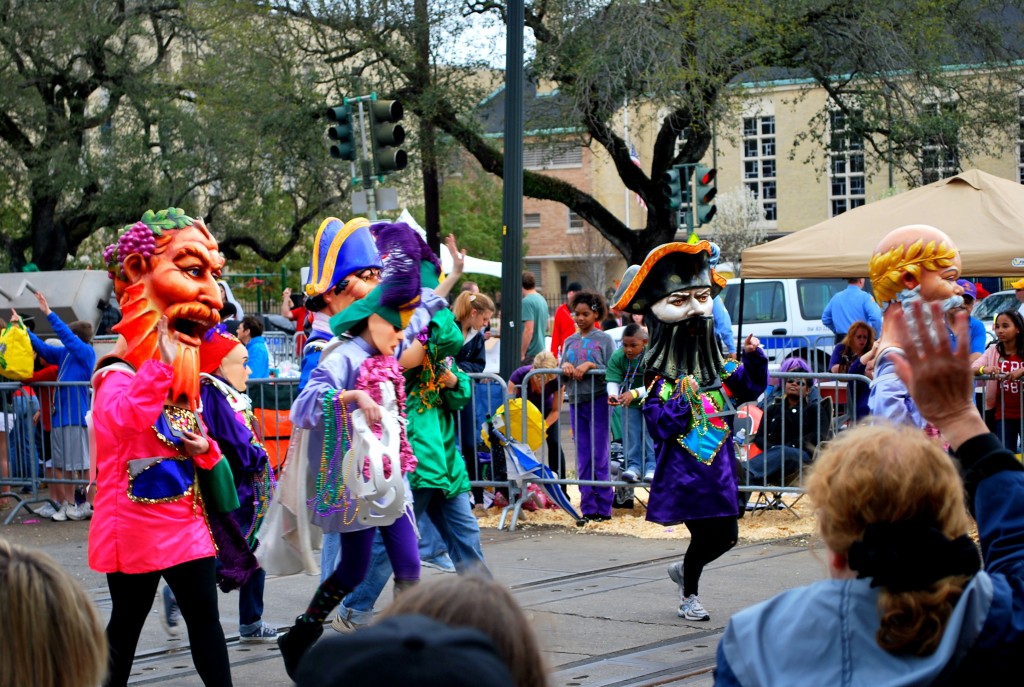 BYOTP.
Public toilets on parade routes are scarce, and toilet paper is even scarcer. Closer to downtown and the Quarter, hotels require their guests to wear bracelets in order to gain access to their lobby (and bathroom facilities). In Uptown, public restrooms are nearly impossible to find. The city created a new ordinance this year banning private port-a-johns on public property — making toilets even more of a scavenger hunt. There are port-a-johns on most major intersections, although their cleanliness leave a lot to be desired. Always have a few extra tissues (and hand sanitizer!) in your pocket.
Get out of the Quarter.
The French Quarter's architecture is the tourist staple of New Orleans, and for good reason — it's beautiful, unique, and promises fantastic photos. There's an endless array of delicious food (beignets, crawfish étouffée, gumbo, red beans and rice, shrimp po'boys, muffalettas) and drinks (monsoons, hurricanes). But there's so much more to love about New Orleans.
The warehouse district is a part of the city I discovered last year. Home to several art galleries, quaint restaurants, and pubs, it's an eclectic little area that I love traipsing around in. Lucy's Surfer Bar is a cool hangout any time of day or night. It's feasible to walk there from the Quarter during the day if you're in the mood for a long stroll.
Uptown is another gorgeous area that should be included in any visit to New Orleans. This is the area that has large avenues lined with oak trees, accentuated by streetcars. St. Charles Avenue is lovely, and a great place to watch parades. Watching a parade in Uptown is more a taste of "how the locals do", but parking quickly becomes a problem — be sure to arrive at least 2 hours early to secure a spot and don't block any driveways.

If you're in the Quarter, check out the Greasing of the Poles.
For something a little different than parades, there is a quirky (sexy?) tradition at Royal Sonesta Hotel on Bourbon Street: The Greasing of the Poles. It involves petroleum jelly, women, and poles… but it's a fully-clothed affair! The Friday morning before Mardi Gras weekend, a representative of the Hotel and a handful of honorary pole greasers (and celebrity greasers) will arm themselves with petroleum jelly and lather the balcony support. The goal is to prevent Mardi Gras revelers from snaking up the poles to get to the balconies, and it's very effective!
You don't have to flash to get beads.
People rarely flash outside of the French Quarter — and locals never do. A common misconception is if you return with a good haul of beads, you must've provided a "free show" in exchange. Statewide, Mardi Gras is a family affair, with indecency prevailing near Canal Street. Yes, scantily clad women tend to get the prize items — and the closer you get to the epicenter of the tourist chaos (French Quarter), the fiercer the competition.
Even without flashing, it's still possible to get a good catch — eye contact and enthusiasm is the trick!
Here's a video of my epic catch of an entire bag of beads at Lee Circle last year:
Check out the Krewe of Tucks!
Are you going to Mardi Gras this year? Come see me! After enjoying three Mardi Gras over the past seven years, I'm finally going to get a taste of the craziness from the other perspective. Tucks has always been my favorite parade (it was founded in good ole toilet humor and more of a mockery of other Krewes),  Just shout at me on Twitter and I'll try to give you the bead hookup when I pass by. Tucks rolls on Saturday morning at 12pm and begins in Uptown.
Laissez les bons temps rouler!