Happy Super Bowl Sunday!
I'm flying back from New Orleans today after working amidst the madness that is Super Bowl Week (no, CMT did not supply us with gametime tickets…I think you have to be in some sort of ultra-union for that).

For a little fun, and in honor of the holiest game in professional sports being held in New Orleans today, here is a comparison that shows how much my love of football has grown in the last year. 
Both photos were taken in Champions Square before game time, outside of the Superdome.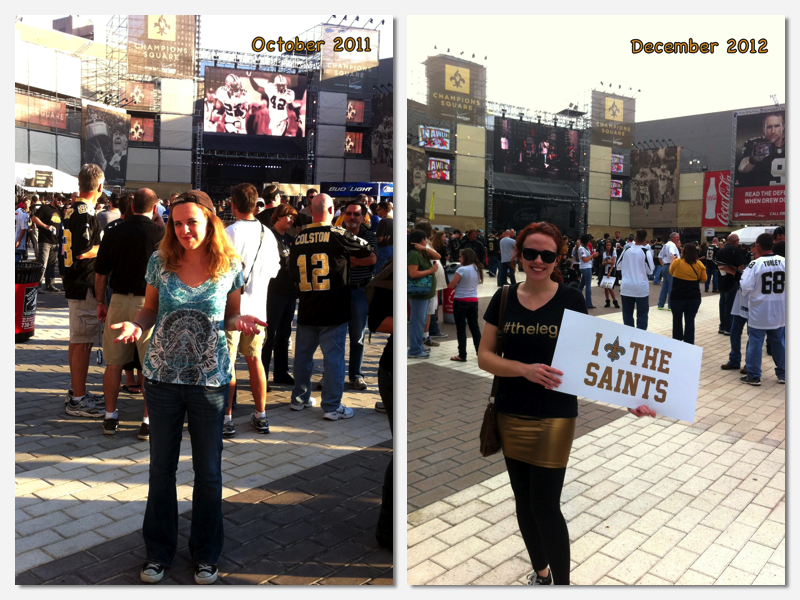 Drastic hair color change aside, there is little indication that this is even the same person!
On left: A girl who didn't even have a black shirt in her suitcase, and couldn't name a Saints player aside from Drew Brees or Lance Moore. Gunner was beyond embarrassed and made me wear his hat so I didn't get kicked out of the city.
On right: A fanatic who is quickly advancing in her football studies, and never missed watching a Saints game all season – now proudly being able to recognize shotgun and pistol formations.
Boyfriends, there is hope. The same transformation could happen to your girlfriend, too.
+     +     +
In protection of girlfriends everywhere, Gunner did not force or coerce me into becoming a mega-Saints fan. My love for the sport was discovered on my own accord after enjoying a Titans vs. Saints game from the second row!