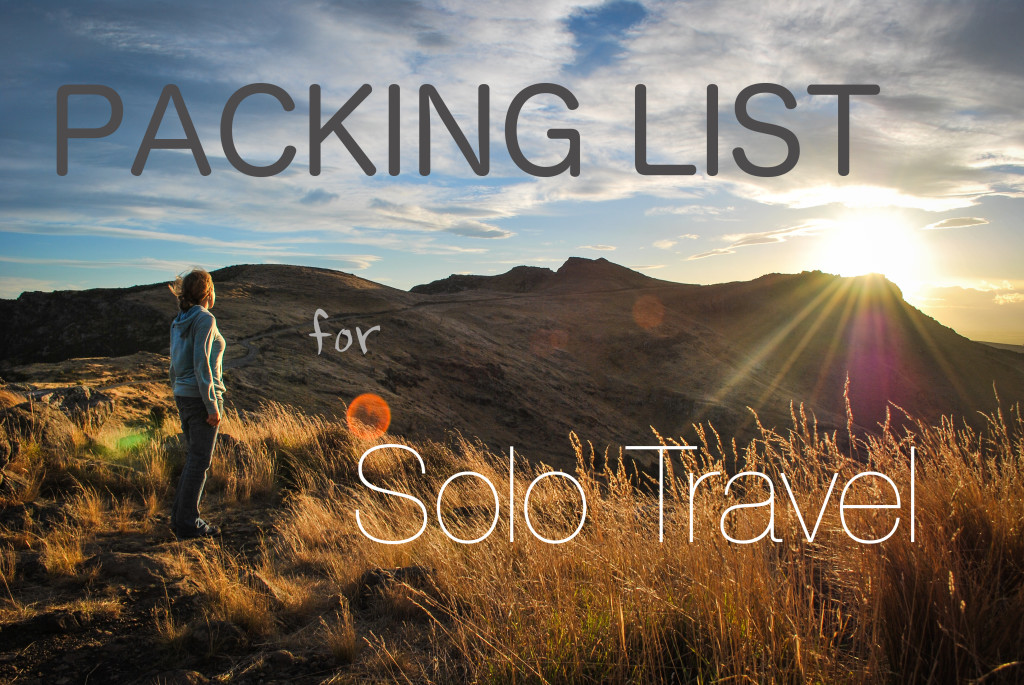 I'm obsessed with other people's packing lists, and finally got around to curating one of my own that I use for my solo travels.
If you're looking to take off on adventures of your own, here's a comprehensive list of my favorite traveling tricks and gear.
Packing List for Solo Travel
Backpack: Osprey Farpoint (40 liter). I LOVE this backpack! I was worried it would be too small for my month-long jaunt to Asia, but it was perfect for a trip to warm-weather climate. It somehow kept expanding to fit all of the souvenirs I picked up along the way, which was another huge plus. (If you're traveling in winter or across several climates, I'd recommend a larger backpack.)
Daypack: PacSafe Slingsafe 300. This pack has a ton of theft-prevention tools built in, making it a great pack for keeping your electronics safe. I've loved it the past two years, but it officially now too small to use as a daypack + camera bag for my 5D and 2 lenses. I plan on upgrading to the PacSafe CamSafe before my next jaunt.
Camera: I recently scored a Canon 5D Mark II in mint condition on eBay for less than $1k! I currently have it paired with Canon's 40mm pancake lens and a Tamron 28-75mm. (If you work in film, television, photography, or a field related to the visual arts…gear is a great write-off and investment.)
Back-up camera: Sony NEX-3N body that I picked up for $198 on Amazon, used with a lens adapter for Canon lenses. I used this camera exclusively in Southeast Asia due to its portability, and have been pleased with the results.
Phone: Unlocked iPhone 6 – I purchase local SIM cards in the countries I visit, which gives me a phone number to stay in touch with anyone I meet locally. More importantly, these local SIM cards provide my phone with data, allowing me to text my friends and family back home from anywhere.
Packing cubes: I brought two cubes with me on my latest trip and they were PERFECT for organizing the closet within my Osprey backpack. One large packing cube to hold my shirts, pants, skirts, and dresses; a small one for my socks, underwear, and bathing suits. The laundry bag is great for separating your dirty clothes.
Silk sleep sack: One of those "creature comforts" that has saved me numerous times, particularly in Southeast Asia. Perfect for staying in grungy hostels or overnight trains (or if you get stuck unexpectedly sharing a bed with a girl you literally just met on your Halong Bay cruise thanks to a booking error). Best of all, it weighs next to nothing and easily crams into that spare inch of space in your backpack.
Noise-canceling earphones: Another comfort that is worth it — and more affordable and portable than massive noise canceling headphones. They successfully muffle the drone of an airplane that makes you feel you're going insane — I survived a 16 hour flight thanks to these!
Wrinkle Release Spray: This is a valuable little bottle and for some reason, it doesn't make it on most folks' packing lists. It's a MUST for me, as clothes WILL get wrinkled when you live out of a backpack, and not all hostels have irons. Trust me.
Padlocks: Perfect for securing your belongings in lockers in hotel dorms. (I always bring two with me, since I'm guaranteed to lose at least one.)
Research
Lonely Planet guides: There is so much helpful information crammed in these pages, whether it's local customs, scam alerts, basic phrases of the language, or safety tips. Plus, it helps pass the time on long bus rides without wifi.
TripAdvisor: Don't design your trip based on TripAdvisor, but it is helpful for obtaining a second opinion on accommodation, destinations, activities, and tours.
Travelfish: A great resource for traveling and backpacking Southeast Asia.
Meeting the Locals
Travel is always fun, but it's so much more enriching and rewarding when you make a friend at the local level.
Couchsurfing – I wouldn't have met two of my best friends in the traveling world if it wasn't for Couchsurfing. The website's gone a bit commercial in recent years (I think we're all still trying to forget the 'nonprofit' scandal), but it's still a great way to meet locals that are eager to brag about their hometowns. You don't always have to stay on their couch, either — you can find someone who wants to meet for coffee or take you on a walking tour. Several cities offer group meetups once a week.
WWOOF (Willing Workers on Organic Farms)– I had a wonderful experience working on an organic farm with a family in New Zealand five years ago in exchange for meals and accommodation. If you're of the "traveler, not tourist" mindset, you'll love WWOOFing as well. (The only downside is having to pay to join the WWOOFing community for every individual country as there isn't one large organization for the entire world.)
HelpX – A great listing of jobs around the world, the majority are on a volunteer basis in exchange for accommodation and occasional meals. Next time a television project drives me to the brink of insanity, I'm going to work at a hostel in Slovakia for a month.
With Locals – A website geared towards hooking you up with locals offering services.
Travel Insurance 
Travel insurance is a MUST-HAVE. It can cover flight delays and baggage loss, injuries abroad, emergency dental, etc. I've been using World Nomads to insure all of my trips since 2009. Just be sure to read what their policies cover, and make sure your activities are covered.
Accommodation
Hostelworld.com – As a primarily solo traveler, there are few things I value more than a clean, safe hostel with a good social atmosphere. Hostelworld is the booking site I've used the most across all my trips, as I've found they consistently list more hostels than anyone else.
airbnb – There isn't always a hostel in the neighborhoods I want to stay in, and the cost of a dorm bed in cities such as New York and Los Angeles is outrageous. Thank goodness for airbnb! I've used it several times, including abroad. It's perfect for traveling as a pair. (Bonus: Use this link to receive $25 off your first stay.)
Flights
Momondo – I use this to get a rough idea of pricing on flights to a certain area. It does scans a ton of bizarre third-party websites, so exercise caution and do research before purchasing international flights from a website you've never heard of (Wegolo, for example, has a ton of bad reviews). I occasionally find a similarly priced deal directly through the airline.
Priceline – I have used Priceline's "Name Your Own Price" tool for last-minute flights and have saved the advertised 30-40%, with my best score being $180 for a one-way flight to Los Angeles. The catch? You don't get to pick your departure or arrival times, but it will be later than 6am and you'll arrive by 12am.
Debit Card for Traveling
I have a checking account with Charles Schwab for the express purpose of international travel, and here's why: All ATM fees are refunded.
And, whenever you travel abroad, always call your credit card company to give them a heads up.
Note: I also bring two credit cards as back ups, and $200 USD depending on my destination.
Staying in Touch & Travel Apps
My parents were terrified when I went on my first solo trip that they purchased a cell phone capable of texting (and calling, if necessary) globally. That was hella! expensive. Fortunately, I wizened up over the years and found cost effective ways to let them know of my whereabouts:
Google Voice – I have a Google Voice number, and I can literally text anyone in the US from anywhere in the world for free as long as I have data service or Wifi. I'll never forget texting my mom from the streets of rural Ukraine, "I found our family!" The one drawback to Google Voice? You can't text photos. (For this, I use Kik or WhatsApp.)
Rebtel – Rebtel offers free calls between users and very affordable rates for calling international numbers.
TripIt – THE BEST ORGANIZATIONAL APP FOR TRAVEL EVER. All I have to do is forward my itineraries, hostel and flight confirmations, and TripIt organizes it all. I can invite my parents to the itinerary as well, so they can know where I'm staying and what flight numbers I'm on.
Foursquare / Swarm – I love this app when I'm abroad.  It adds a pin on a digital map every time you "check in" somewhere, and it also saves the names and addresses of all the places you visit. It's perfect for when you can't remember the name of that amazing restaurant in Lviv ten months later but want to recommend it to somebody.
Organized Tours
G Adventures – I recently used them for a week in Thailand, and logistically, it went off without a hitch. However, I recommend booking early and for tours about 14-18 days in length, as those offer a better value. (Try to get at least a 20% deal. Don't book anything at full price if you can avoid it.)
Intrepid – Very similar to G Adventures in their style. Haven't used them yet, but I plan to in the future. (Tip: Become a loyal follower of Nomadic Matt's site for a 10% discount.)
Inspiration for Travel
I wouldn't be traveling if it wasn't for the stories of others leaving their comfortable cubicles for worldwide adventures.
The Points Guy – Professional travel hacker. Constantly on the lookout for the best credit card deals, offers phenomenal advice and responds to questions via Twitter.
Frugal Frolicker – Lindsay spent the last year working a normal 9-5, but still found time to travel to Iceland and Colombia, along with at least three respectable domestic trips. She recently moved to Australia and focuses on photography and affordable outdoor adventures.
Alex in Wanderland – A girl that's been on the move for 3+ years. Fantastic underwater photographer, hilariously self-deprecating, and has a fresh perspective for every new city she visits.
Brooke vs the World – Brooke doesn't update any more, but her solo trips to Eastern Europe 5+ years ago were instrumental in inspiring me to see the world alone–particularly Ukraine.