What have you done for free travel?
Friday afternoon, while debating if I really wanted to shell out another $200 to rent a car for the week, I decided to take a gamble and see if I could get lucky on a discounted last-minute flight. The lowest fare I could find for roundtrip tickets from Los Angeles to New Orleans was $700. What if I could find a ticket for half as much?

SUCCESS! My price was accepted.
It was with Delta. It had a layover at their Minneapolis hub.
That was a letdown.
It was the Saturday before St. Patrick's Day, and I flew to Minneapolis. Once I arrived, I was greeted with snow and a crowded gate.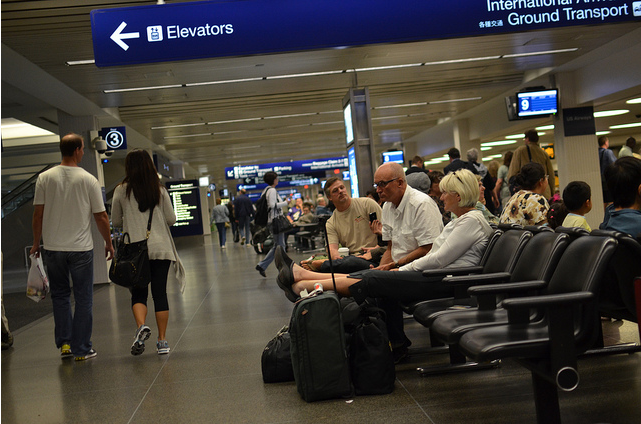 There had been a cancellation of an earlier flight, passengers were annoyed, and the agents were in a frenzy. "This flight has been oversold. If there's anyone out there with any flexibility, we need four volunteers," one of the agents was saying. "You'll get a four hundred dollar travel voucher, we'll put you in a hotel, and you'll get to New Orleans by 10:30am tomorrow."
In past experience, those travel vouchers go quickly, usually before I have time to process what's happening. Today, no one was making a move. Everybody just wanted to get the heck out of Minnesota.  I wasn't keen on hanging out in the arctic tundra either, but I began thinking of all the ways I could utilize a $400 travel credit.
A few minutes passed, and they made the announcement once more. Again, no one volunteered. After consulting Gunner, we decided it was too good of an opportunity to pass up, since it would cover the cost of my impulsive flight. I volunteered to get bumped to the following morning.
Then reality settled in. It was eight o'clock at night, it was 20 degrees outside, and ten inches of snow from yesterday's blizzard was still on the ground. I'd been expecting to fly from one palm tree destination to another palm tree destination, and did I have a jacket? No. I'd spent so much of the last two months in warm climates that I'd forgotten winter was still going on in most of the country.
But I had the prized $400 voucher, $22 in meal tickets, and a hotel room. No luggage, but that was only a minor inconvenience.
"You'll be OK," the attendant assured me, as he handed me a little overnight kit. "We're on the warm side of winter now."
I laughed at him. "It's twenty degrees here!"
"Yeah, but you won't die if you're outside for a minute or more," he stated plainly. He wasn't making fun of me for being a wuss; he was being serious. And suddenly I was grateful it was 20 degrees in Minnesota.
.  .  .  .  .  .   .   .  .  .  .
My shuttle driver to the hotel was a chatty older gent from Yugoslavia, bundled up in a heavy winter coat and hat. He saw that I didn't have a jacket and cranked up the heat. He was telling me about his time in Russia and how it compared to the winters in Minneapolis. When I inquired about Ukraine, he was an avid supporter and thrilled to talk about it. "Kiev is a beautiful city, " he said. "You'll want to move there. And they have big bread. Long bread. They bake it on Sundays to last the whole week."
And I thought of how nice a big, warm loaf of bread would taste at that moment, as I gazed out the bus window at Bloomington. The interstate was pretty empty; the sky was black. The Mall of America, IKEA, Bed Bath and Beyond, and dozens of other stores illuminated our path. All were open, all had snow that had been plowed into massive piles in the parking lots. "I'm impressed so many businesses are still open," I noted, thinking Nashville would be shut down for a month in these conditions.
"We only close when there's 20 inches of snow," he explained. "Lots of machines here. We're prepared."
.  .  .  .  .  .   .   .  .  .  .
The next morning when I climbed onto the airport shuttle at 4am, the temperature had dropped to 6 degrees. I could only laugh at my jacketless idiocy as  I bundled up in my light sweater and wrapped my arms around my backpack to try to generate warmth. While I was thinking warm thoughts and waiting for the shuttle to leave, a guy walked out of the hotel wearing shorts. But he wasn't clueless like me; he Canadian, built from stronger stock. As if wearing shorts in 6 degree weather wasn't big enough of a cliche, he kept asking about somebody's "beg" and where that "beg" was and how he had his "beg" packed and ready to go.
I thought about how much I hated winter, and how annoyed I was at Canadian Bag Man for his resilience. I was freezing. Fortunately, the $400 travel voucher was the best consolation I could ask for.
It was time to get to New Orleans.
The Luck of the Irish: This was the second year in a row I've flown on St. Patrick's Day weekend. Southwest also had miscalculated the demand and had oversold their flights leaving Charleston.  I would guess that air travel on this lesser holiday is an oversight by airlines and the majority of flights get oversold.