I love the hub of cities, the serenity of the countryside, extraordinary cuisine, beaches, and limestone karsts.
Southeast Asia has it all, and more. I wish I'd had several months to enjoy this region, but it's hard to be a full-time traveler when your other love is working 50 hours a week in television.
If you're also short on time and want to take in the spectacular scenery of Thailand and Vietnam, you'll LOVE this 1-month itinerary. It's a diverse mix of some of Southeast Asia's highlights at a manageable pace. It includes two major cities (Bangkok, Hanoi), beautiful beaches (Railay, Koh Tao), countryside (Mai Chau), and SPECTACULAR limestone karsts (Khao Sok, Halong Bay, La Han Bay).
Yes, there are a zillion blog posts about how to travel this area! However, packing lists and itineraries differ from traveler to traveler, and I always love reading those details as they inspire ideas of my own.
Let's get to it!
Bangkok: 4-5 Days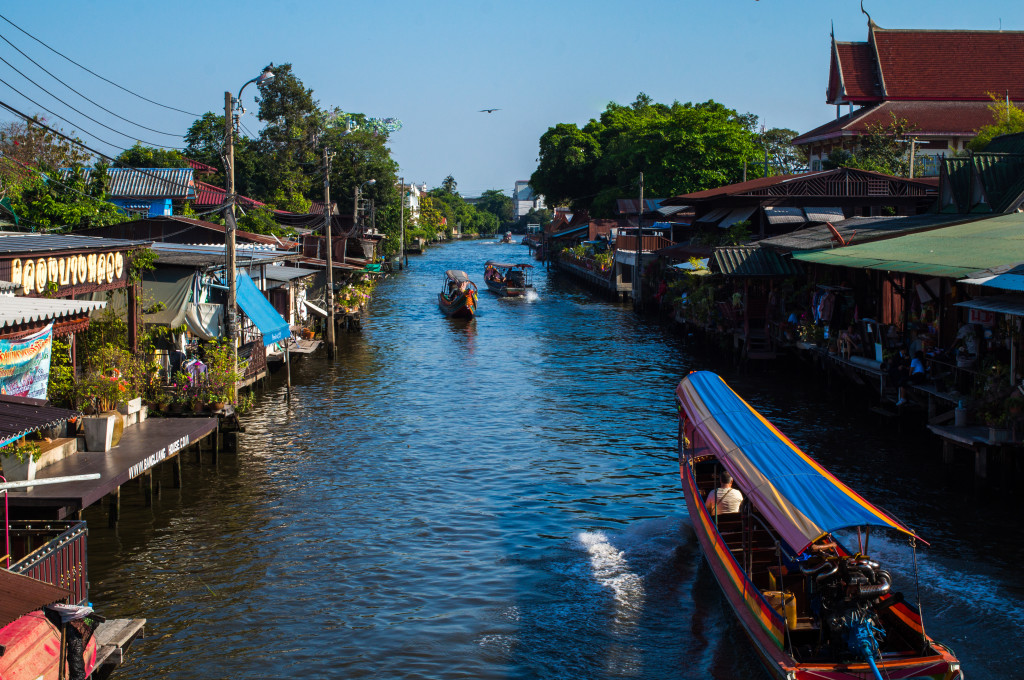 Everything you've heard about Bangkok is true: It's humid, crowded, chaotic…but completely electrifying.
Spend Day 1 getting acclimated to the time difference and readjusting to being on land after 30+ hours in transit. I met two other people at my hostel and tagged along with them to a charming floating village. It was completely by chance, but it's the perfect first day in southeast Asia.
Spend Days 2 and 3 doing the touristy things: visiting the temples, sampling street food, drinking coconut juice out of a bag, and shopping at Pantip Plaza. Enjoy the nightlife, and be smart about it (don't drink more than you can handle, don't accept drinks from strangers, don't walk back to your hostel alone, etc).
Spend Day 4 hanging with any new friends or checking out another place you've heard of through word of mouth. A few awesome activities near Bangkok: bicycle safari of the countryside or a day tour of the ruins of Ayutthaya, a smaller version of Siem Reap.
Where I Stayed: In a Box Hostel, which fit all four of my criteria: Clean, quiet, close to the metro, and NOT on Khao San Road.

If you're going to splurge, Bangkok is the city to do it: there's plenty of plush accommodation at reasonable prices.
Travel Day: Bangkok -> Koh Tao
There's a bus and boat combo straight to Koh Tao from Bangkok, which takes about 10 hours. The overnight train/ferry option takes 13 hours. You can also fly direct from Bangkok to Koh Samui and take the ferry to Koh Tao, but it's pricey.
(When I did this trip, I spent two disappointing nights on Koh Samui. Some people love Koh Samui… maybe it's good for luxury getaways and honeymoons, but from my perspective as a flash packer, it fell flat and felt artificial. I forget I even went there because it was so unmemorable. Maybe I didn't go to the right places, but it just didn't resonate with me…I wish I'd gotten to Koh Tao sooner.)
Koh Tao: 4 days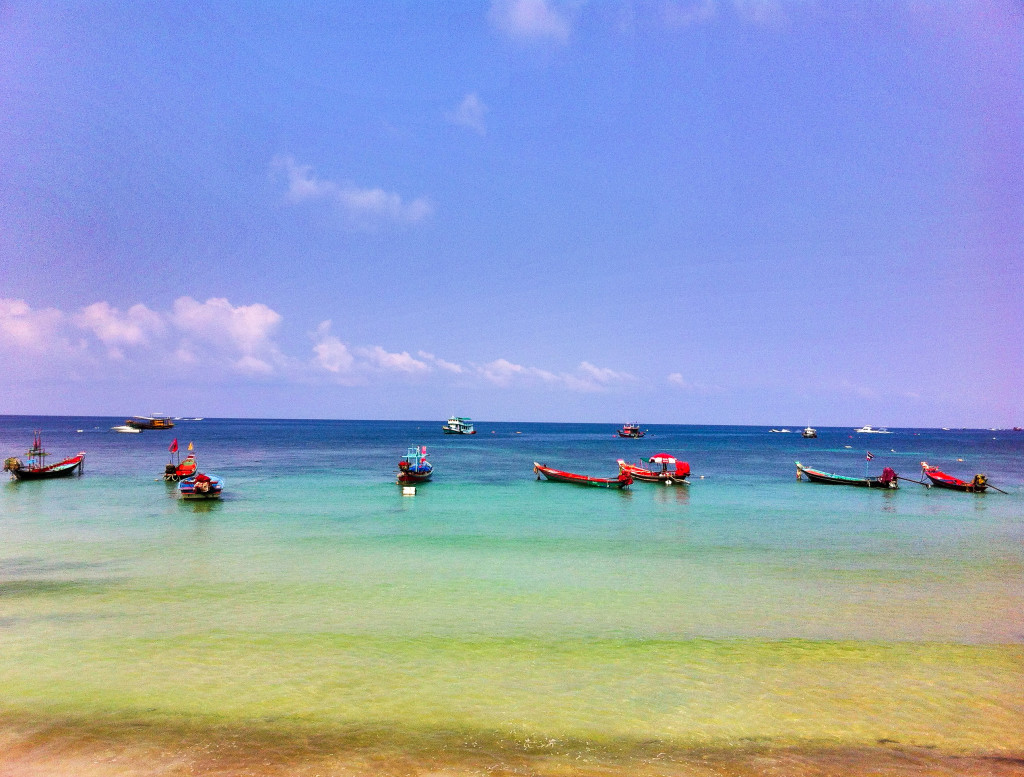 What is there to do on Koh Tao? Oh man. You can do as much as you'd like, or you can laze on the beach and do absolutely nothing. This is the place to recharge. If you're feeling spry, there's an endless supply of water activities, shops, restaurants, and nightlife.
Two of my favorite activities of my entire trip were on Koh Tao: Snorkeling (the marine life is INCREDIBLE) and stand up paddle boarding at sunset. If I'd had more time, I may have built up the courage to try diving. Learn from my mistakes — you'll want a GoPro for this.
Where I Stayed: Splurged on a 1-bedroom suite at the delightful Sun Smile Lodge to escape the Full Moon Party crowd that overran all affordable lodging.
Note: If you're going to Koh Tao to get your open water certification, add an extra day. Most dive courses will provide accommodation.
Travel Day: Koh Tao -> Khao Sok National Park
Khao Sok isn't quick to get to from Koh Tao, but it's so worth it. Plus, it will break up the beaches of Koh Tao and the Andaman Coast. You'll need to take a ferry-bus combo, and it takes 12 hours.
Tip: Use the restroom BEFORE getting on the bus. There are no stops and even though the bus is supposed to have a bathroom, it may be "broken", as it was on mine.
Khao Sok National Park: 2 days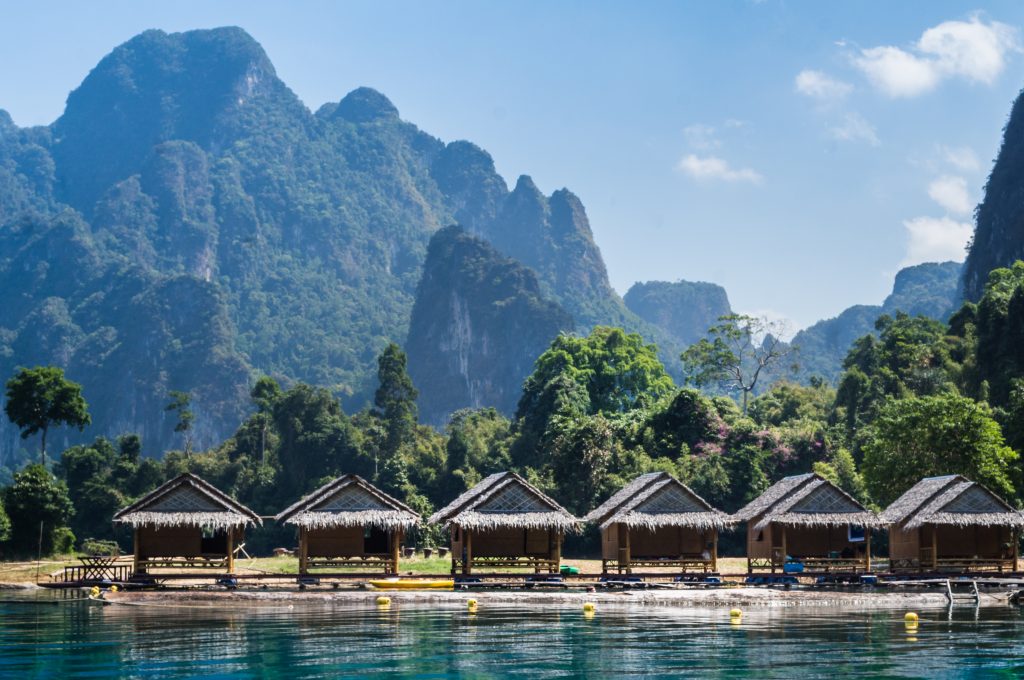 Of this month-long itinerary, Khao Sok is the most beautiful spot. It's a man-made lake, yes, but the setting is serene and spectacular. It's beauty on a larger-than-life scale, constantly surrounding you on all sides. Cameras don't do it justice.
Beyond the lake, there's a lot to see in Khao Sok – canoeing down rivers, jungle trekking, and exploring caves.
Where I Stayed: The Banana Lodge, which was a little outside the main drag. If I had to do it again, I'd stay closer to town.

Most guesthouses should be able to arrange tours for you within the National Park, including canoeing, trekking, and longtail tour of the magnificent lake.
Read more: Is Cheow Lan Lake Thailand's Most Underrated Destination?
Travel Day: Khao Sok National Park -> Krabi (Ao Nang)
It's about 3 hours to Krabi/Ao Nang from Khao Sok via bus. It's a relatively easy travel day, giving you a bonus half day at Ao Nang.
Ao Nang/Railay: 3 days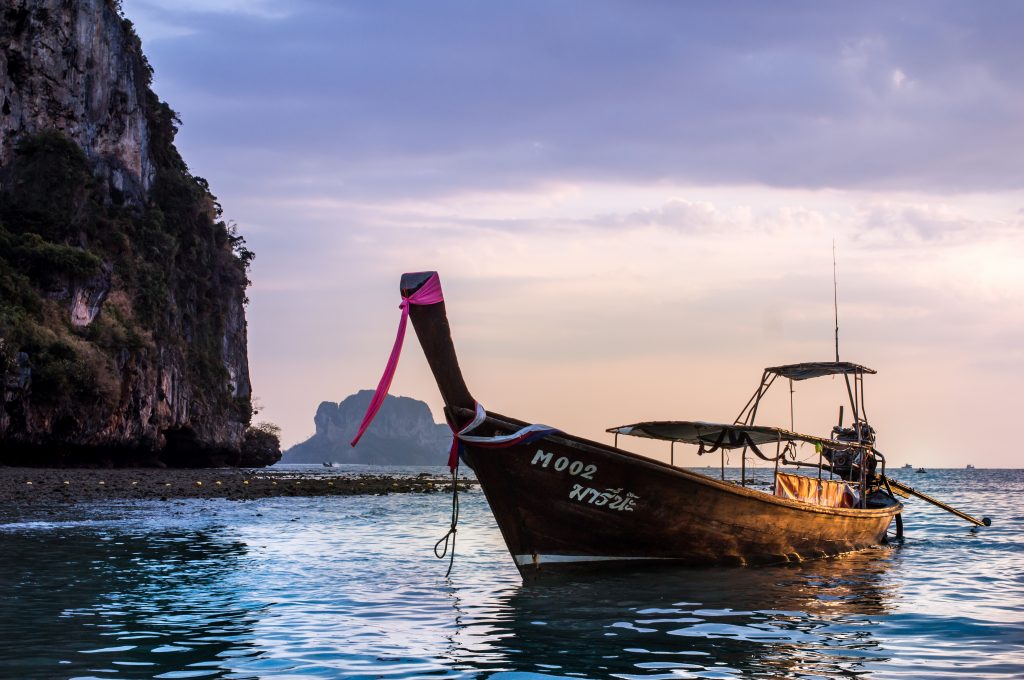 If you love jaw-dropping scenery and immaculate sunsets, you HAVE to visit Railay.
Spend Day 1 exploring the area around Ao Nang. Take a 15-minute long tail boat taxi to Railay and walk the trail to Phra Nang (an equally or perhaps even more spectacular beach). Relax. Take TONS of photos. Enjoy the sunset on Railay. Prices on Railay are inflated, so pack snacks.
Spend Day 2 on a day trip to the surrounding islands (your hostel or guesthouse can book this for you). I did the 4-island catamaran tour that included Koh Hong. It was rushed and crowded, but beautiful. (If you make enough friends, you can split the cost of renting a boat for a day and see it at your own pace.)
Spend Day 3 doing whatever you want.
Where I Stayed: Slumber Party at the Beach Hostel. Yes, it is a party hostel, but the staff is fantastic and they organize fun activities for their guests, including pub crawls and a camping trip on a private island. (If you're not the partying type but want to stay close to the beach, try the neighboring Zabava Guest House.)
If Time: Add 4 days on Koh Lanta, which is three hours away by ferry.
Travel Day: Fly Krabi, Thailand -> Hanoi, Vietnam
Flights from Krabi to Hanoi are around $100-$250. Some include a layover in Bangkok. I flew direct for about $230. (Remember, you'll need a visa for Vietnam.)
Hanoi: 2-3 Days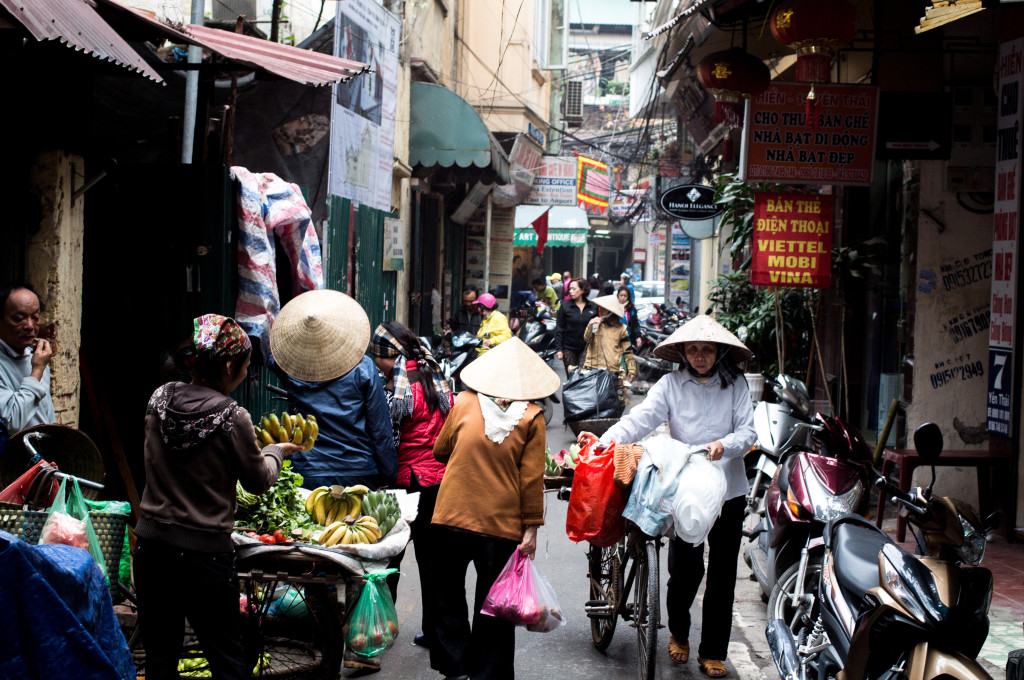 You can use Hanoi as a base to explore the Northern Vietnam region, as most of the tours depart from there.
Two highlights: My first ever foodie crawl (the food is delicious and our guide was fantastic), and drinking 25 cent beers at Bia Hoi Corner. The lowlights? There's still a lot of pain and anger towards the Western world, particularly palpable at any of the museums.
Where I Stayed: Little Hanoi Diamond, which is the best value I've ever had traveling. I opted for the dorm room, where for $6/night, you get a clean bed and a delicious breakfast. The downside? No common area to hang out in to meet other travelers, although it was fairly easy to meet others in the dorm room.
Mai Chau: 2 Days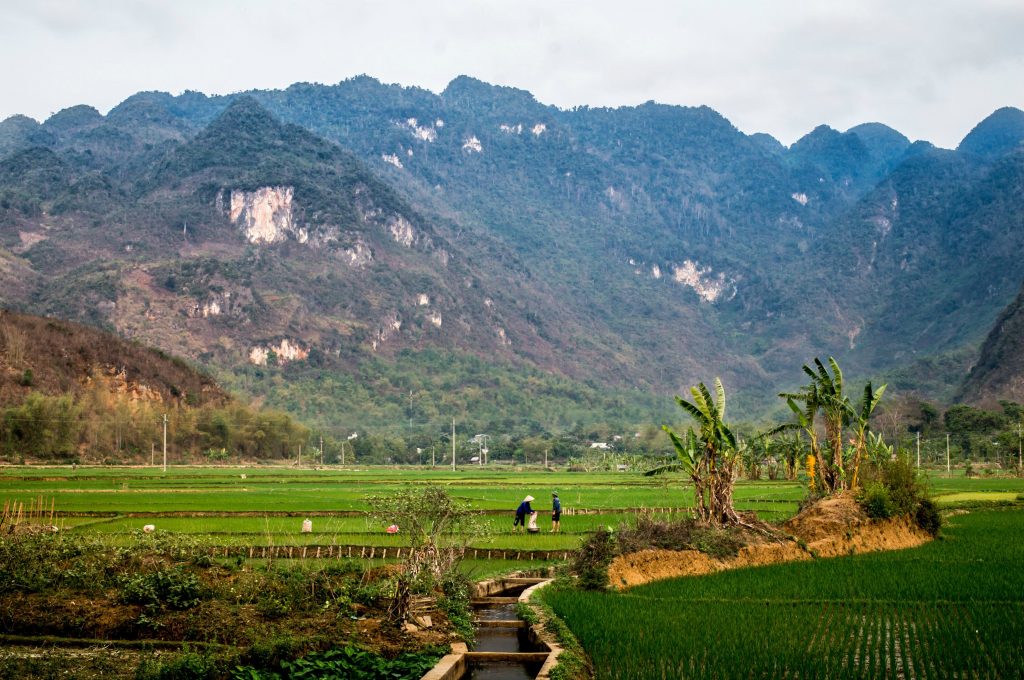 I hadn't heard of Mai Chau until I arrive in Hanoi, but it was the highlight of my time in Northern Vietnam — it had the most amount of sunshine! There aren't the infamous rice terraces of Sapa, but there are glorious mountains and beautiful rice fields. I immensely enjoyed my afternoon riding a bike throughout the region, waving to the smiling local kids.
Where I Stayed: I purchased a two day tour from my hostel for $45, which included meals, transportation, and one night basic dorm accommodation at Mai Chau Nature Place.
I also did a tour to Sapa, but it was a poor value in comparison: nearly 3x as expensive, twice as far from Hanoi, and hundreds more tourists. Sapa is beautiful — but there's a tout culture that has evolved as a result of the tourism explosion. It's an ethical dilemma worthy of its own post.
Read more: A Glimpse into Vietnamese Life in Mai Chau
Ha Long Bay (or Cat Ba Island/Lan Ha Bay): 2-3 Days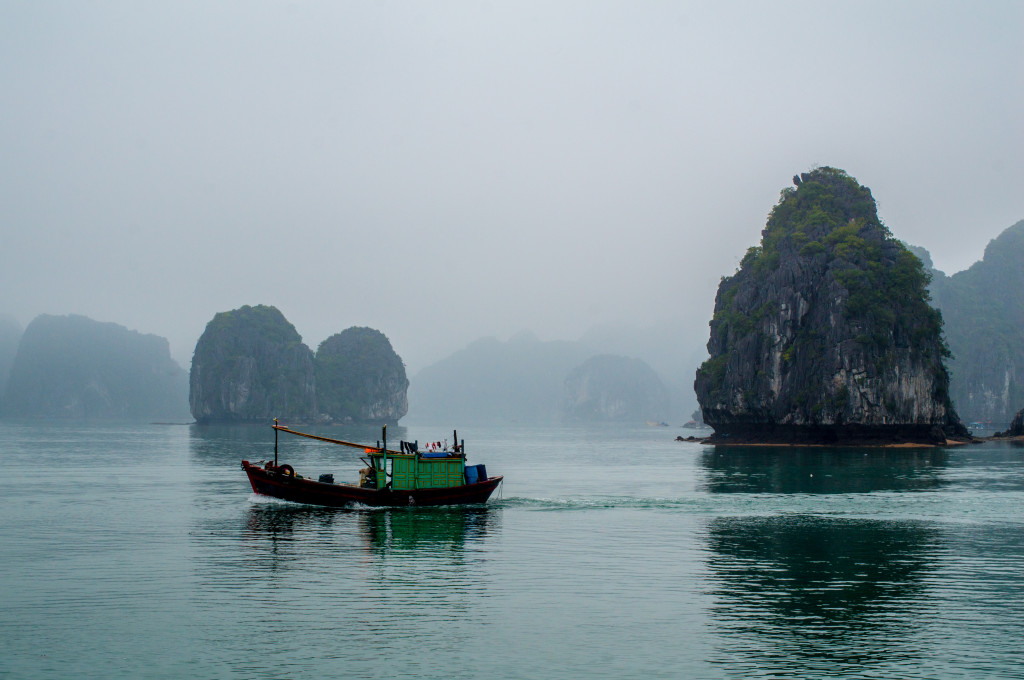 I recommend at least a 2-day cruise, as you actually get to go deeper into the bay, past the highly trafficked and polluted areas. It also takes about 4 hours to get to Ha Long Bay from Hanoi. A 1-day trip would mean 8 hours on a bus!
Or, instead of Ha Long Bay, head straight to Cat Ba island for a tour of neighboring Lan Ha Bay — which is much quieter and far less polluted.
Where I Stayed: I did the 3-day, 2 night tour from Halong Party Cruises. Aside from sketchy/unsafe rock climbing and a tour guide too focused on keeping to schedule than maintaining the party, it was decent. The best part was a night on Freedom Island– a private island located within Lan Ha Bay. I booked directly through my hotel and they cut $10 off the ticket price. (It's also cheaper/tamer alternative from the Hanoi Backpackers' tour — which, apparently, has descended into 20-year-olds marooned on an island, drinking until they're on the verge of alcohol poisoning.)
Remaining Days: You Pick!
This itinerary leaves a cushion of 3-5 days, depending on the exact length of your travels. This enables freedom to stay longer in some places — you could hit up Koh Phangan on your way to Koh Tao, or add an island to the Andaman Coast portion of your itinerary. Or take the train from Hanoi to Hoi An, design custom clothes, and fly out of Danang.
For my free days, I saw Sapa, and then flew to Singapore for 36 hours. And from Singapore, home.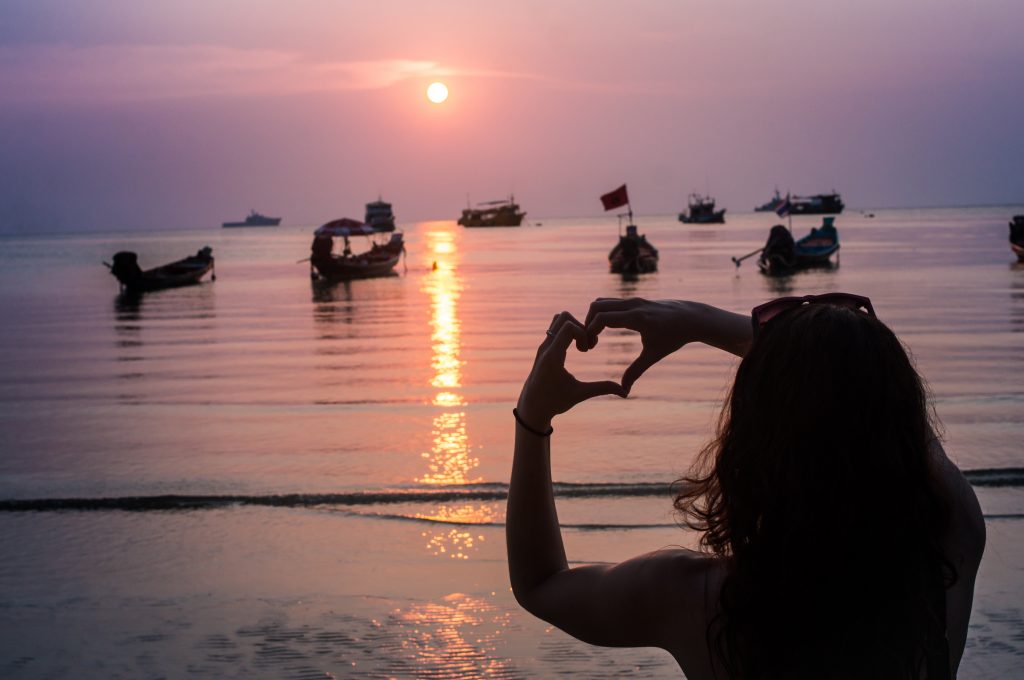 Closing Thoughts
You left out Siem Reap! Believe me, I KNOW. If I could have made it work without feeling insanely rushed, I would have. Cambodia deserves more than a four-day whirlwind.
Everything moves slowly in this part of the world, and limiting yourself to two or three geographical areas allows yourself time to enjoy the areas without spending all your free time in transit. In fact, the reason it took me so long to visit Southeast Asia was because I could never budget enough time to see everything!
For the biggest weather rewards, do this trip in reverse. Going from the sunny Andaman coast to drizzly, chilly Hanoi was a bummer, but there was a reason: Vietnam is considered to be the more difficult of the two countries for independent travelers. I opted to begin my Southeast Asia adventure in Thailand as a cultural warm up.
Koh Tao is the logistics hitch in this itinerary. Koh Tao was a must for me, but it does add a lot of additional travel time since it's the only stop on Thailand's Gulf Coast. If you don't care for snorkeling or diving and want to lounge on the beach, consider skipping Koh Tao. Head directly from Bangkok to Khao Sok, then on to the Andaman Coast.
Don't be afraid of the group tour if it suits you. My trade is a lot of logistics wizardry with a little storytelling, and solo travel sharpens those skills. Occasionally, it's nice to give the administrative /coordinating duties to someone else. After two days solo in Bangkok, I hopped on an 8 day tour with GAdventures. It gave me a chance to breathe and focus on enjoying Thailand. Once we landed in Koh Tao, it was back to solo travel.
Always have spare toilet paper and hand sanitizer in your pocket or purse. You will need this, daily. Trust me.
Don't take selfies with the Buddha. This is extremely disrespectful. Never turn your back to Buddha.
How Much I Spent
My flight was free thanks to miles. After remaining expenses, my trip cost around $1600. It would've been a lot less had I traveled solo the entire time — closer to $1000.
Additional Resources for One Month in Southeast Asia