Antarctica. Rugged, mysterious, magnificent, daring….freezing. The last frontier.
Most know it's possible to visit the outlying edges of Antarctica as a tourist (and even run marathons), but it's even more expensive and difficult to make it all the way to the center of the continent, the bottom of the world: the South Pole.
I've read a few travel bloggers' accounts of traditional tours of Antarctica, but I had never heard of anyone hanging out at the South Pole — that is, until Luke Magolda's Facebook location changed one day to Amundsen-Scott South Pole Station, Antarctica. As I watched a stream of photos of the frozen tundra appear on my news feed, I exploded with excitement, curiosity, and awe — and immediately inundated the poor guy with questions.
He graciously agreed to share his story, and I'm very excited to launch the first installment of Traveler Threads, featuring Luke and his current occupation at the South Pole.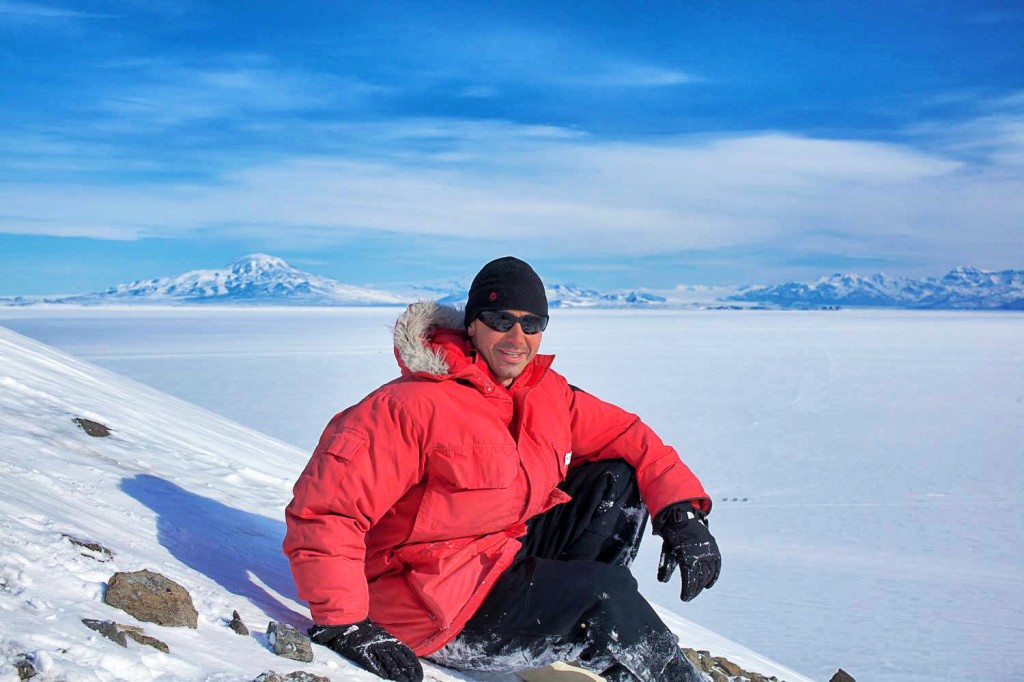 How did you hear about the program? What made you want to work in Antarctica?
Well, I found out about the job while I was working in Iraq as a contractor a few years back. I think I just found it intriguing that almost anyone could go to Antarctica and work. Antarctica has always fascinated me but I never thought I would be able to go there. A friend of mine worked here during the 2011-2012 season and he seemed to love it.
I applied in 2011 and received an alternate position but never a primary spot. (An alternate position is basically just a backup in case a primary contract holder backs out.)
Explain your job at the South Pole — what do you do?
I work in logistics and supply. Most cargo that arrives or goes out of the station goes through us first. The supplies are inventoried in the computer database and delivered to the different departments around the station as needed. It's a very diverse job being that we spend a lot of time both outside and in the office.
Most tourists get to Antarctica via ship leaving from Ushuaia, Argentina. How did you get to the South Pole?
The USAP deployment headquarters for the majority of people deployed to Antarctica is in Christchurch, New Zealand. I arrived in New Zealand last October and spent roughly 3 days there preparing and briefing for the trip. We had a 5 hour flight on a C-17 Air Force cargo aircraft from Christchurch to McMurdo Station. McMurdo Station is on the coast of Antarctica on the Ross Sea. I spent roughly 3 days in McMurdo before I took a flight on an LC-130 to the South Pole. The flight was only about 3 hours long. I think it took a little over a week from the time I left the U.S. until I arrived at the South Pole. At Palmer Station, which is on the peninsula, employees must arrive by boat from Chile.
What is an average day like for you at the South Pole?
I usually wake up around 6:30 in the morning and get ready. We can't shower every day here because of water restrictions. Everyone is allowed two, two minute showers per week. It's not as bad as you would think. People tend not to sweat since it's so dry and cold here. We have our morning meeting and stretching from 7:30-8.
Work here varies from day to day. Sometimes we can spend an entire day outside moving delivering supplies and others we might spend inside on the computers. We have an hour lunch break at noon and get off work for the day at 5:30. Our only day off during the week is Sunday unless there is a holiday.
What do you do for fun down there?
There are a lot of activities for us to do during our off hours. The station has game rooms, movie lounges, arts and crafts room, quiet reading rooms and group activities, such as bingo, during the weekend. There are also various activities staff can take part in outside such as cross country skiing and disc golf.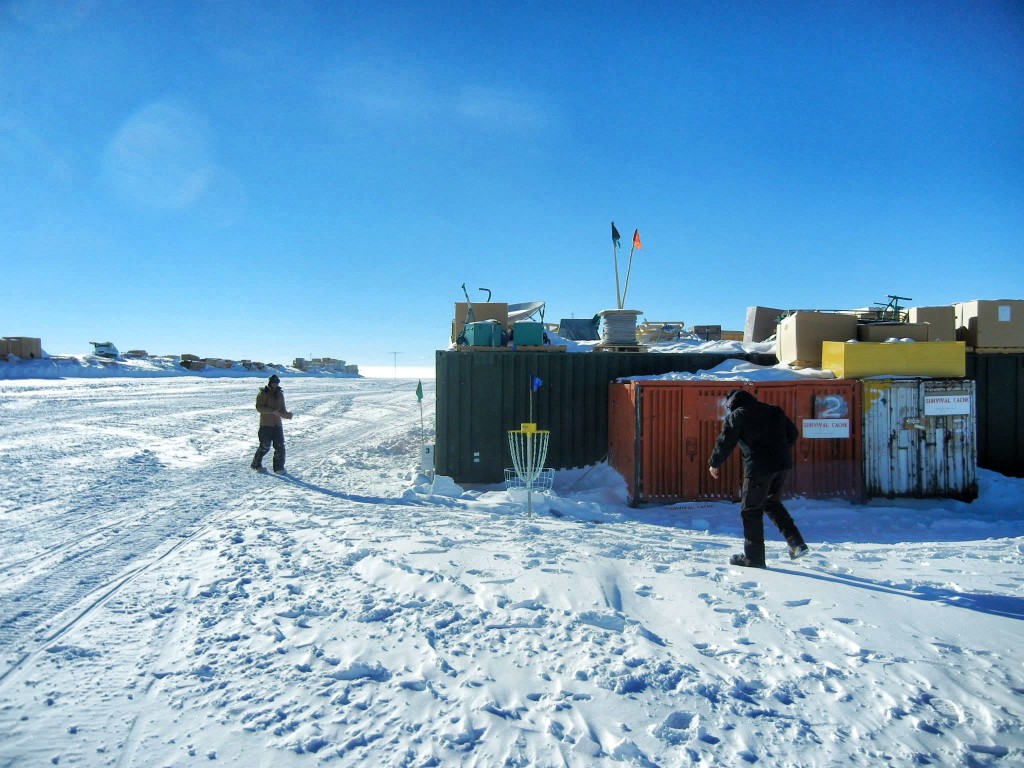 What has surprised you about Antarctica?
What has surprised me most is just how immense the continent is and how untouched it is by people. It took hours to fly from McMurdo to the South Pole and there's still so much more to the continent. During the summer there's roughly 5,000 people on the continent and during the winter there is usually less than a 1,000.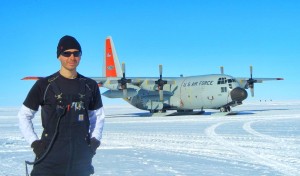 I saw a picture of you out and about in just a long-sleeved shirt…How cold is it down there, really?
When I first arrived in early November the temperatures ranged from -50F to -40F with wind-chill ranging from -70s to -80F. Its summer here and the temps have increased to as high as -5F. If there's no wind and the sun is shining it really doesn't feel that bad.
How long are the commitments for contractors working in Antarctica?
My job is a summer seasonal position. Most people who work during the summer months arrive in October and leave in mid to late February. The winter-over positions tend to last from January-November but can also last an entire year. During the winter there is a period of total darkness 24 hours a day for 6 months or so. Temperatures during the winter can exceed -100F.
Who is eligible for the program and how can they learn more?
The program has jobs ranging from dish washers to engineers to scientists. People of all backgrounds and skills work in Antarctica. There is a lot of paperwork involved during the hiring process. You must be physically qualified to work in Antarctica due to the remote working environment, closest hospitals being in Christchurch.
Additional note: Luke elaborated in Facebook chat that they do have a small medical clinic on-site.
Where are you going next?
Probably to New Zealand for a nice vacation.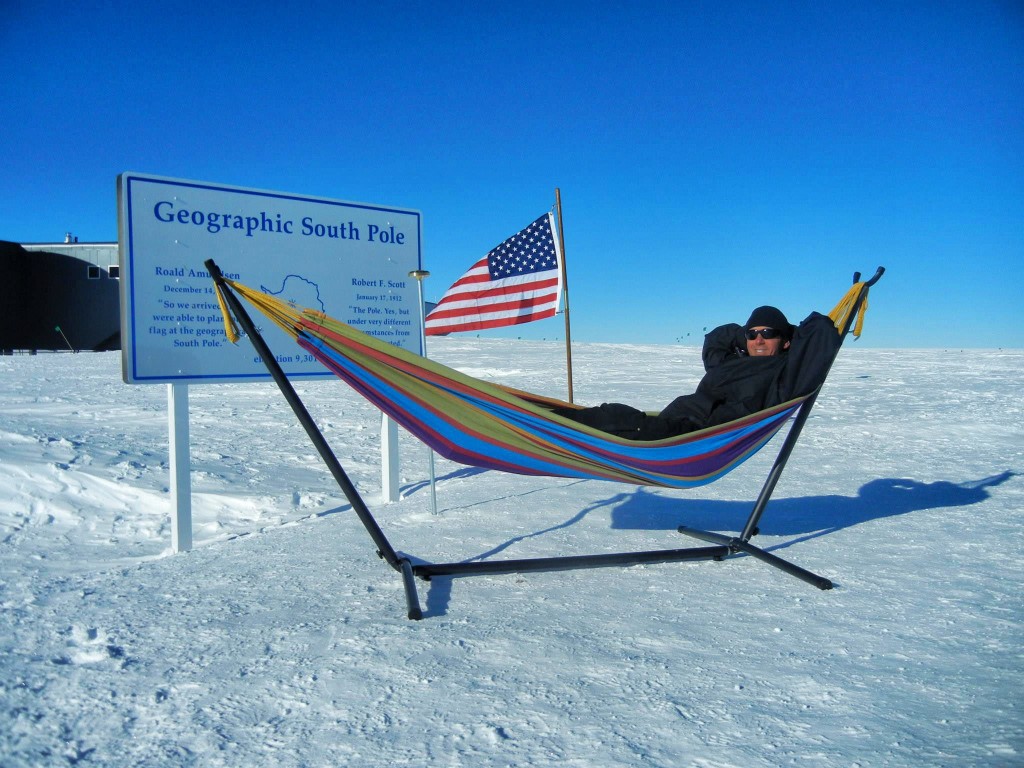 Additional Info about Living and Working in Antarctica
Many thanks to Luke for sharing his story and photos (and for supplying me with all the information I'd need if I ever get the guts to apply!).
If you'd like to share your favorite travel tale on Traveler Threads, give me a shout.

Could you live and work in Antarctica?