Last year, I was offered a production job on the West Coast. The only way I was eligible was if I agreed to fly myself to Los Angeles and work as a local — and I had less than 24 hours to decide if I would take the job.
If you're trying to make a career in a film/tv in a mid-level market, sooner or later you'll be   given the opportunity to work out of a major city — perhaps Los Angeles. Should you take it?
Why I Took the Gig
World-renown production company = Resume boost. There's only a handful of production companies in mid-market cities, and few operate on a nationwide scale, and even less break into the realm of blockbuster movies. The series was to be produced by one of the top companies in the world that have extensive accolades in both television and film. I looked forward to writing their name on my resume.
The show would air on a large, well-known network that had nothing to do with country music. Nashville production isn't all about country music, but for one reason or another, it was all that had ever paid my bills. My resume cried out for diversification under the "Network" column.
Working in Los Angeles = massive street cred. Perhaps one of the biggest misnomers in the film industry doled out by folks from Los Angeles is that people who haven't worked in Los Angeles are ignorant. Maybe it's a superiority complex that can be blamed on consuming large amounts of kale and smog, but it's simply not the case. Regardless, people who claim they've "spent time working in LA" do seem to shoot up the ladder quicker.
There was zero television production work on the horizon. I wasn't going to be making any money in the immediate future back home, unless I took a big step backward and worked as an office grunt for a low-budget movie (full disclosure — it ended up being Robin Williams' last… definitely would have excused the otherwise non-advisable career move).
I have an insatiable thirst for adventure. I've always wondered if, given a last-minute opportunity to disappear for a few months, would I actually take it?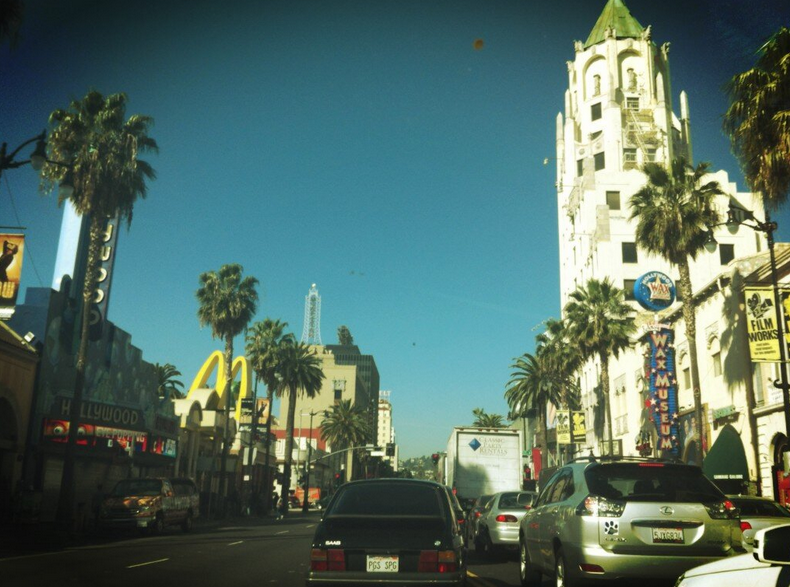 Working as a Local in Los Angeles: The Challenges
Despite coming up with fairly savvy plan in a short amount of time, there were several curveballs that I couldn't anticipate.
Production Schedules are Rarely Firm.
The plan was to have 3-4 weeks based out of Los Angeles and two months on the road. I ran the numbers quickly: I was slated to make $200/week more than my normal rate, and when you're on the road, you earn $40-$50/day extra for per diem. Given this bump in rate plus an extra $300/week in per diem, I estimated that I could afford a month of expenses in Los Angeles on top of my expenses in Nashville.
Three weeks in, all was going smoothly, and the big location for our grand finale episode backed out. We were forced to scrap everything and completely overhaul our creative — oh yeah, and extend our pre-production schedule… by six weeks. Another six weeks living in Los Angeles. For me, this meant another month of paying for two places.
Why this really sucked: Extending production for six weeks is hella! expensive for production companies, and guarantees being massively over budget. To help combat this, our line producer forced us to "go dark" for two weeks. "Going dark" means production stops — no work, no pay.
Of course, they weren't consecutive dark weeks, either — they were spread out in the pre-production schedule by a month. Therefore, I was forced to either (1) pay for those extra weeks of lodging and rental car with no income, or (2) fly home. I opted to fly home both times as the costs were surprisingly comparable.
I know I agreed to work as a local and for that I have no one to blame but myself, but I shudder to think how much extending production cost me.
You Need a Car.
The EPs were slow to hire me as I was from a smaller market. After two weeks of Skype interviews, being yolked around, and making several resume adjustments to make my experience "sound edgier", I was officially hired on Thursday night, scheduled to clock in on Monday at 9am.
There was no time to drive my old '98 Explorer 2,000 miles across the country, if the thing could even survive the trip — and then there was the headache of where to park it for two months while I was on the road. I scored a one-way flight via Priceline for $180, and decided to cough up some cash for a rental car for the few weeks I'd be in LA.
I lived in North Hollywood and worked in Hollywood.  Although laughable, there is public transit in Los Angeles — even a subway that services these two locations — but it still required miles of walking and was never a viable option.
California Taxes are INSANE.
I was counting on the extra $200/week I was making in Los Angeles to offset the costs of two sets of living expenses. When I held the first paycheck in my hands and saw that after federal and California's insane state taxes, my net pay was merely a whopping $20 higher than back in Tennessee, even with my rate being $200/week less. I was devastated. 
(People that end up moving to southern California dismiss these as "paradise taxes").
Controlling Bosses Never Help.
I hesitate to even mention this, but it was a large reason why my experience working as a local in LA was challenging/miserable. The showrunner for the series was extremely controlling of all aspects of her employees' lives, including what happened after they left the office. A few bad prior experiences with people who'd let personal drama affect their job performance had left her scarred and untrusting. She forbid any of her employees room together, lest there be tension at home that would be brought into work. In fact, one of the conditions for hiring me was that I couldn't room with long-time friend and coworker who had gotten me on the job. That should've been a red flag.
How to Make Life Easier Working as a Local in Los Angeles
Two months in, work was so exhaustive and emotionally draining that I was developing an ulcer.  My bank account was in shambles. Thankfully, I had a few good friends, cheap wine, and a newfound discovery of Alfred Hitchcock Presents that pulled me through.
For my last month in LA, I was able to get a handle on my finances thanks to:
Subletting.
With full credit to a VERY understanding roommate, I sublet my room to friends/coworkers for six weeks using Airbnb. If I'd done this for the full five months I ended up being gone, I would have been golden — but I didn't even start attempting to sublet until production was extended and I realized I was in a negative cash flow situation.
Cheap Ass Rental Car.
After coughing up $200/week for rental cars from reputable places, I finally decided to take my chances at Apple Rent-a-Car. I plunked down $90 for a sad little Saturn riddled with dents, scratches, and chipped paint. The A/C made the entire car shake whenever I was idling at a stoplight; it shimmied on the highway, every warning light on the dashboard was illuminated, and the interior reeked of cigarette smoke and cheap carpet cleaner. Every time I got in the car I knew I was taking a gamble, and as I teetered down the 101 amongst 5 lanes of congested traffic, I'd pray that the car wouldn't disintegrate. It didn't.
Amazingly Good People.
After weeks of all of us getting yolked around, a few of my coworkers had pity on me, and let me stay with them for a couple of weeks and gave me rides to and from work, all under the cover of night.  To this day, I am still beyond grateful. 
So…Should You Take the Job?
It really depends what your career goals are. For me, even despite the financial and emotional hurdles, I'm glad I stuck it out because (1) there was little to no work in Nashville during that time, and (2) I now know that my producing chops are up to Los Angeles standards.
But before you take the job in Los Angeles as a local, weigh the options.
You should absolutely take the gig if:
There's no employment on the horizon in your city.
You planned to move to Los Angeles someday anyway.
It's a successful show in its third or fourth season.
You should think twice about taking the job if:
It's a pilot. Pilots are downright hard, and there's no guarantee anyone will ever see it. Usually the pay and hours are worse than an established series.
It's a new series. I took the job for the "resume building" I thought it would buy me, but that only works if the show is successful. In a recent interview back home, an executive studied the credit and snarked, "That show didn't do so well, did it?", as if my involvement on the show had single-handedly caused the show's demise.
The boss might be crazy. I should've run in the opposite direction the minute my friend told me, "You have the job, but we cannot under any circumstances live together, that's her only rule." Lesson learned.
"But shouldn't the company pay for your travel?"
If you're prepping a shoot that takes place in Montana, then of course the company will pay for you to get there and cover your expenses on the ground. That's a different matter than living in the same city as the production company. I live in Nashville, and when I'm prepping or wrapping a shoot, I drive to an office every day in Nashville. The companies that hire me locally don't pay for my rent, but they'll cover my travel costs if the shoot takes place in Detroit, for example.
Once you're established and high on the totem pole, if a company really wants you, they'll fly you out on their own dime and pay for your housing. However, as a "junior" producer, that rarely happens.
For me, the experience was worth it, but every set of circumstances is different. For you? Weigh your options, consider the long-term benefits, and listen to your gut.