With 6 full days in Buenos Aires, I couldn't pass up the opportunity to dart across the Riviere de la Plata and spend a day exploring Colonia del Sacramento, Uruguay.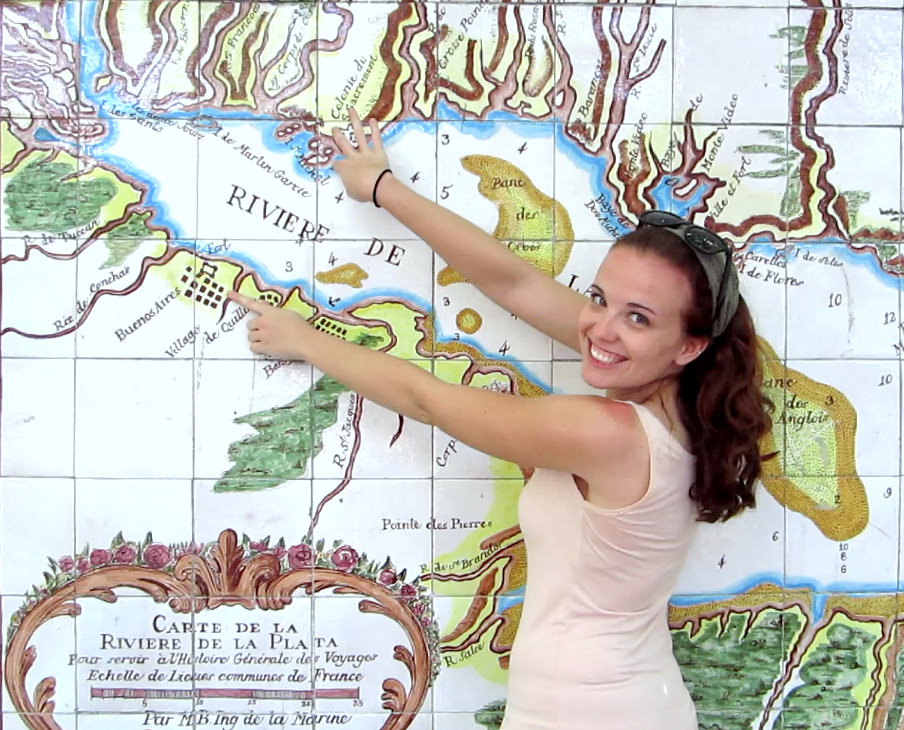 Uruguay is, in all honestly, a country I knew nothing about, nor did I ever imagine I'd visit.
After wandering around the town for a few hours and with only an hour before our ferry was scheduled to depart, we decided we wanted to venture to an area just outside of town, to see the Plaza de Torros, a now abandoned bullring built in the early 1900's.
We could've flagged a taxi, or rented a scooter, as so many other daytrippers had done and were buzzing all over town. But I'm always bent on the cheapest way of doing things, as is Trista. And so, with only an hour left in Uruguay, we opted to wait for the public bus, which we didn't expect should take very long. After ten minutes with no bus, I started looking agitatedly at my watch – our minutes left in Uruguay were ticking by. I never ride public transportation in Nashville- ever– so in my mind, buses should magically appear every 5 minutes. When that didn't happen, my anxiety grew. As a lover of foreign architecture, I really wanted to see the Plaza de Torros – but I didn't want to get stuck in Uruguay with nothing but my passport.
I saw a bus appear over the horizon. I lept from the bench excitedly, completely ignoring the bus number. I wanted to get on it simply because at least it was going somewhere, but the old Uruguayan woman also waiting at our stop wagged her finger at me. I took a deep breath and sat back down.
Finally, the old public bus bearing the correct number came bumbling up the hill, creaking to a slow stop in front of us. We ambled to the back of the bus, where we were met by stares from locals. Tourists must use the scooters, evidently.
As the bus sputtered down the road, taking us further and further out of town, I looked at the neighborhoods, dingy with Latin American spirit from years of dirt kicking up off the dusty road. Traffic lights were nonexistent, street signs were rusty from years of rain and wind, making it impossible for us to follow along on our map. It was the real Uruguay, not polished for tourist eyes.
After a good 15 minute ride, the bus stopped at the Plaza del Torros, and we took in the bizarre sight of a Coliseum set in the middle of a quiet neighborhood.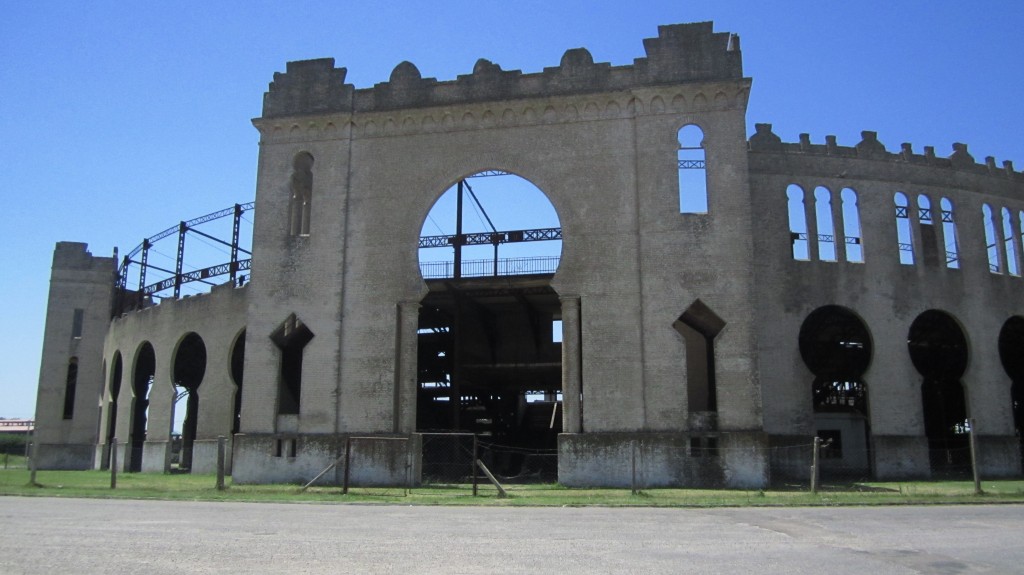 Much to our dismay, a combination of barb wire and chicken wire surrounded the Plaza. The main entrance was fenced off, any access was forbidden. We gladly would've paid a tourist tax to tour the thing, but there wasn't a soul to be seen. It was shaping up to be a lame sightseeing experience, one of those But the guidebook told me to! moments.
Fortunately, Trista wasn't easily dissuaded. As we walked around the side of the Plaza, she discovered a giant hole in the fence, begging for adventurous souls to sneak in. Perfect.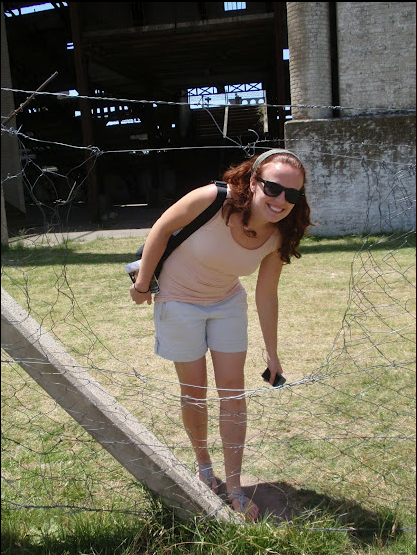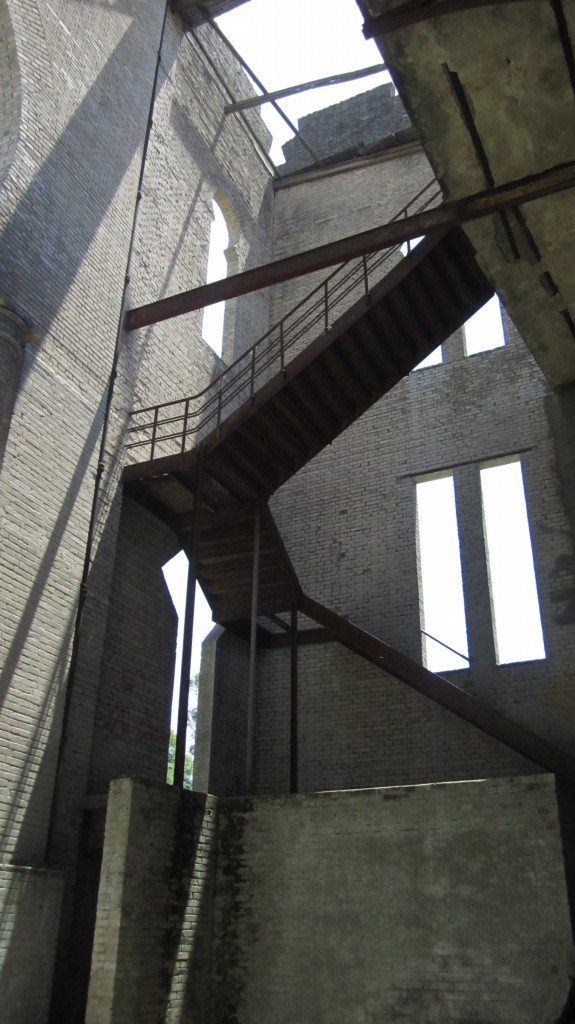 It was creepy. It was eerie. Amidst the decay, it painted a picture of a forgotten era of just a hundred years earlier.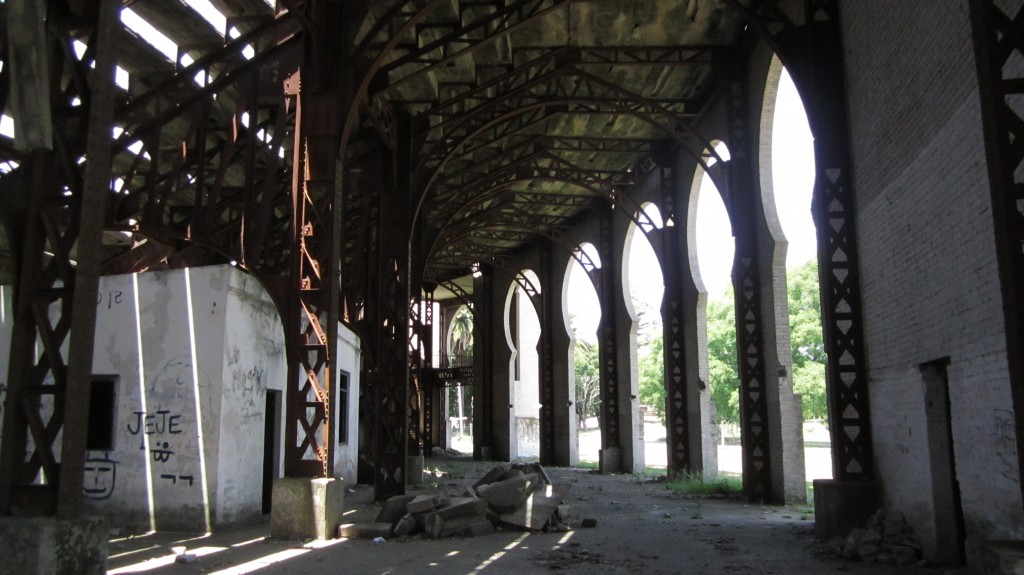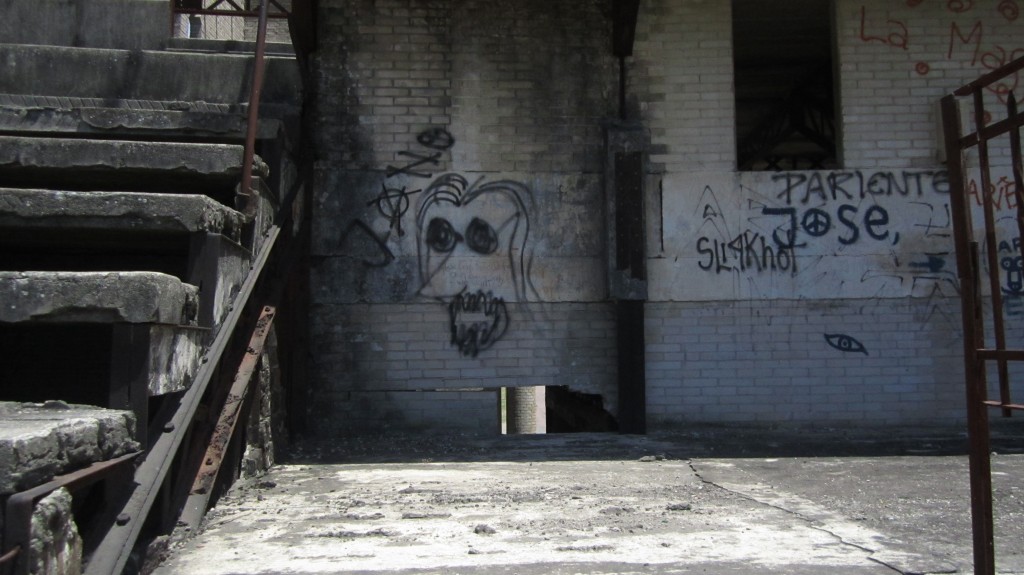 Crumbling concrete and rusty staircases are all that remains of a once vibrant Plaza. We walked up the first safe! staircase we found (avoiding the cracks and crevices), which led into the main seating area.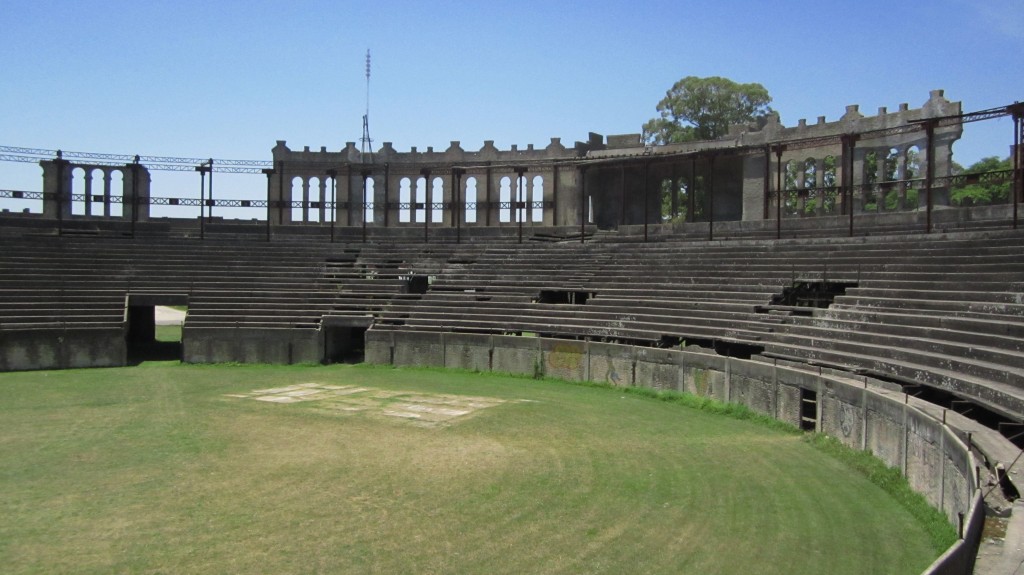 After taking the necessary amount of photos, we realized we needed to begin heading back into town. High with adrenaline from sneaking onto a badass historical site, reality smacked us in the face as we stepped back onto the quiet residential street. There was no semblance of traffic, cars, anything. There was no bus stop. There was no bus.
I remembered the direction our bus went after it dropped us off, and we decided to walk down the road until we found a bus stop, or a store, or even a payphone… anything. We found no such thing. We were in the middle of a residential area, on a beat up road, probably 10 or 15 miles from the port where our ferry would be departing in the next half hour. Locals enjoying their Saturday relaxing in their front yard watched us with amusement.
Thanks to being raised in a paranoid culture (and thanks to too many Dateline specials), I began thinking of what would happen should we get stranded in Uruguay. How long would it be until we'd have to knock on doors? What would happen if we met the wrong person? How long would it take anyone to find us? Why the heck did I come to Uruguay?!  Panic was settling in.
Just then, the bus emerged from behind the trees that lined the neighborhood. There was a patch of ground that looked a little more worn than the others. Could that be the bus stop? With nothing to lose,  Trista and I sprinted to the theoretical bus stop, and soon enough, we were on our way back into town, just in time to catch the ferry back to Buenos Aires.
Sneaking onto a cool historical site and almost getting stranded in the middle of Uruguay… mark that  down for the infinitely bizarre.