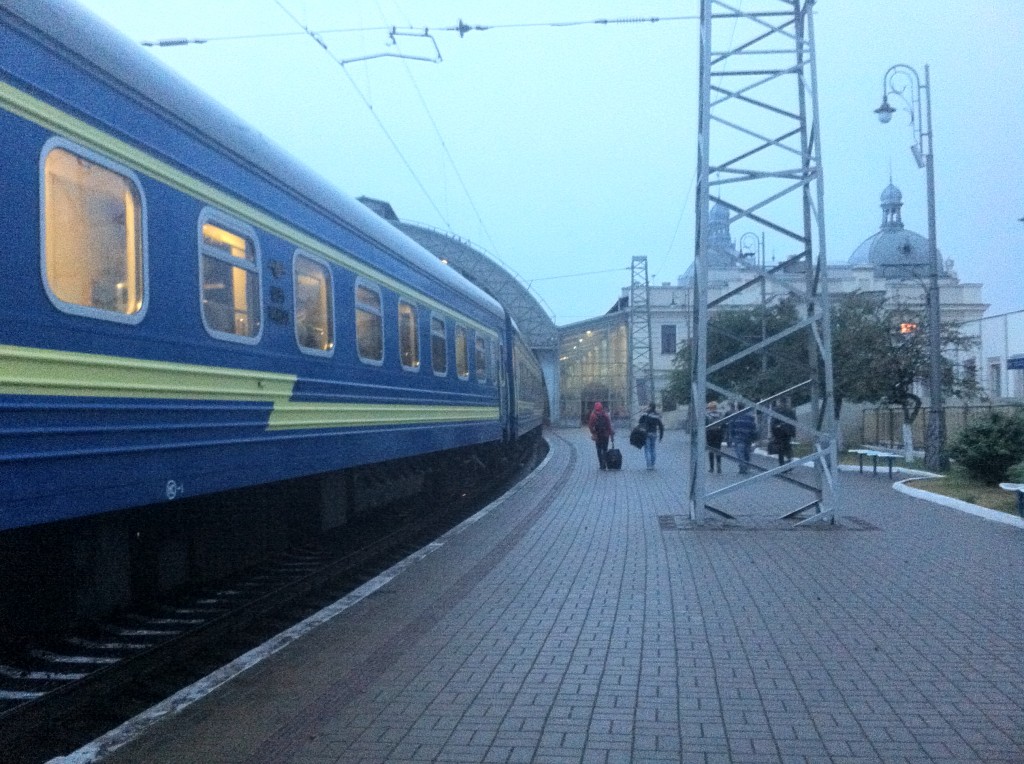 "Laryssa" is a very odd name for someone growing up in a small southern town in the mountains of Virginia. I remember being in kindergarten and having my sweet teacher, in her thick southern drawl, asking me to explain my name — which is a complicated question for a little kid. My mom fielded these questions with the blanket statement, "It's Ukrainian. Her grandfather is from Ukraine."
My last name is even worse, but there's no cool explanation behind it. It might be German, it might be Italian. Let's just say it starts with an E and is pronounced like Amy.
Adventures at the Train Station
Taking a train is the most efficient way to get from Kyiv to Lviv. At only 197 UAH ($25 USD), it's also cheap. The catch? Surviving the train-ticket-purchasing process.
I'd been warned that buying train tickets in Ukraine is… an experience. It's guaranteed to be a nightmare, regardless of how much you try to prepare yourself. I'd heard story after story of the ticketing agents being rude to foreigners, and that no one speaks English. I tried to be clever and get around the process by buying the ticket online, but of course when it came time to process payment, the website kept crashing (ah Ukraine, at least you're trying). I mustered up some courage, wrote out what I wanted in Russian with my ideal departure time and the date, and marched to the Central Station in Kyiv.
There's no main ticket counter at the Kyiv train station. There's about 30 ticket windows, all selling specific tickets, each labeled in Russian — and thanks to last year's EuroCup, the windows are also labeled in very vague English. After trying to puzzle together the weird English into something that could possibly mean "Local Trains", I finally gave up and picked a random window. It was the wrong one, naturally. But they did direct me to windows 8 and 9.
It would happen that windows 8 and 9 were labeled as "international trains", which made even less sense to me as Lviv is definitely in Ukraine, but whatever. The woman at window 8 looked to be mid-40s, but had a very stern and distracted look. She didn't want to be bothered. Even still, I went up to the window, and in my best Russian, squeaked, "Proshu, Kyiv Lviv?" and handed over my little piece of paper with my details.
"When? What class?" the lady barked at me in English, stone-faced.
Irritated English is better than no English at all! "Tomorrow. Night train. Second class."
She typed in some numbers on her antiquated computer. "Full. No tickets."
Yeah, right. I had checked the night before and there were plenty of space available, but arguing in these scenarios is pointless. Dealing with most customer service reps in Ukraine is like dealing with the average DMV employee in the US: They usually don't understand what you want, and most of all, they don't care.
"Really? All full?"
"There's first class for 500 hryven." she said.
My stomach plummeted. That was two and a half times what I'd budgeted, and I had a hunch it had everything to do with my being a foreigner, speaking abysmal Russian, and causing her to speak English. I knew there were still seats left for 200 hryven, she was just saving them for her countrymen.
"Is there anything in second class the next day?"
She checked, or pretended to check. "Yes. It leaves at 4am."
That sounded even worse. I decided to take a minute to mull it over and kick myself for not booking this ticket the minute I got to Kiev. After weighing my very limited options, I sadly walked up to the ATM and pulled out 500 hryven (about $62 USD).
I walked back to the window with the irritated lady. "OK. I'll take the train tomorrow night."
"10:40pm?" she confirmed.
"Yes," I sighed, defeated.
"Passport," she said.
I handed it over. She studied my passport carefully. I was ready to hand over the 500 hryven when a huge smile crept across her stone-cold face. She held up the first page of my passport to the glass. She pointed at my name beneath the photo. "Laryssa Alexa...Aim-y?"
Oh my gosh, she's only the third person in my whole life to get it right.
"Yes!" I exclaimed, overjoyed. The lady smiled again, proud of herself. She was now beaming at me, as well.
"Okay, Laryssa," she said, "That's 200 hryven."
What?!
"Two…hundred?" I clarified.
She nodded. I happily handed over 200 hryven, and she patiently went over everything on the ticket with me: which number was the carriage, which number was the bed,  how I had an upper berth, etc. I thanked her profusely in Russian, feeling I had witnessed a small miracle.
I was nearly doing cartwheels as I left the train station. In reality? I got exactly what I wanted for exactly the price I should've been charged. A novel idea in the land of bribery, especially as a foreigner.
Mom, my Ukrainian name finally came in handy. And it saved me $40!