My grandfather, for the sweet man that he was, had an extremely thrifty side: he loved to haggle. It was a part of his upbringing in Ukraine. Get something at cost or lower, if at all possible.
So, when I was invited to visit one of Kiev's largest second-hand flea markets to find a jacket, I was overjoyed to give my bartering chops a go and make my grandfather proud. What gems would we unearth in the second hand wonders of Kiev? I envisioned myself strutting around Nashville in a large fur coat and ushanka that I'd score for $5.
We stepped off the subway and into second-hand heaven: an endless sea of countless shirts, jeans, jackets, belts, shoes, bathing suits, and even wet suits spilling out.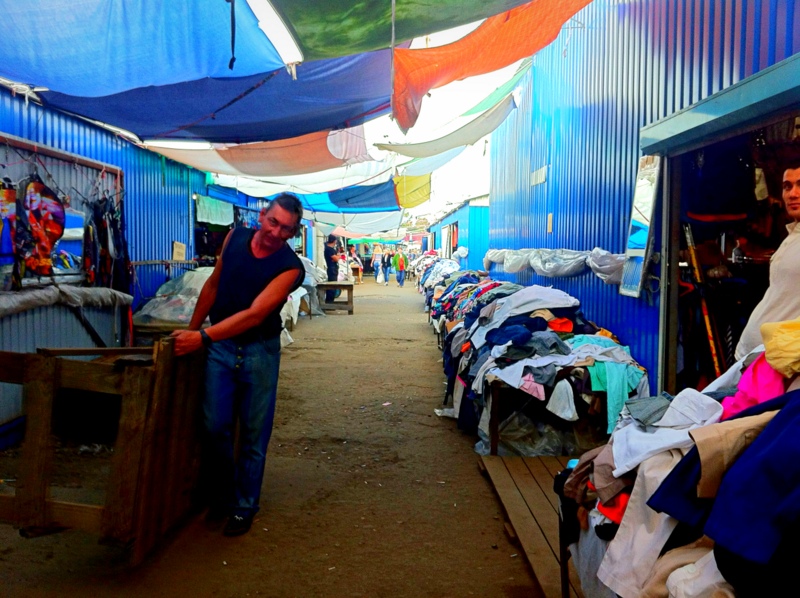 The options were unlimited. We finally picked our store, in search of a jacket that had both personality and practicality to suit Alex's needs for his upcoming trip to Finland. (It took us longer than it should've to talk ourselves out of going through the long rows of 90's-style leather jackets.)
We finally found the winner that possessed functionality and a little bit of color. As Alex put it on, a pretty young girl sporting a fanny pack approached us. I'd seen similar young girls manning the other stores and found it to be strange. They were essentially attractive shepherds, watching over the used merchandise.
"Can't I just hold onto this and look around?" Alex muttered.
The girl was now hovering right next to us. It was time to haggle.
We asked how much in broken Russian. She whipped out her cell phone, opened the calculator app, and handed the phone to me. She wanted us to give the starting price.
"10 hryvnia?" I suggested. My cheapness knows no bounds, even when dealing with a currency that is worth about 1/8th of my own.
"I don't want to insult her," said Alex sensibly. We settled at 50 griven. I handed the phone back to the girl.
The girl laughed and shook her head. "Ni, ni!"
She typed in 100. Now this is real bartering, even if done through a sad cell phone calculator, I thought to myself.
We were about to counter-offer at 70 when a slick looking man with dark features and well-fitted jeans approached us. He gave us the once-over and muttered some things to the girl in Russian while giving us disapproving glances. The girl answered with submission and skirted away. He was the Boss, I realized; the Clothing Pimp in charge of all these young girls. When you start asking too many questions and disrupt the process and upset the cash flow as we had done, you get to deal with the Clothing Pimp directly.
"What about 70?" Alex pressed.
"How much you want for this jacket?" the Clothing Pimp asked in English. At this point we had attracted the attention of other browsers, who seemed amused by the plight of two foreigners.
"70?" Alex said again.
"150," said the Clothing Pimp.
"OK, fine, 80."
The Clothing Pimp snatched the jacket from Alex's hand. "150," he said with finality. He didn't wait for our response. He just walked off with Alex's newly beloved second-hand jacket.
"OK! 100!" we shouted after him.
The Clothing Pimp didn't turn around, or acknowledge us.
"But she said 100!" we protested.
This got his attention. He turned to the girl and scolded her in Russian. He handed her the jacket and shot us an arrogant smirk. The girl said nothing and put the jacket back on a hanger without looking up.
"You realize we're arguing over like, 2 dollars here, right? Is this a business? Do you want to SELL me something?!" Alex shouted exasperatedly. Suddenly deaf to English, the clothes mafioso didn't look at us again as he slinked off into another tent. The Clothing Pimp had spoken and his verdict was final: No jacket for us. Now, we must live with his decision and deal with it.
Onlookers smiled wryly as we tried to process what the heck had just happened.
"No one is going to pay him 150 for that piece of crap jacket," muttered Alex as we left the clothing pimp's domain and continued our search.
And I began to wonder if bartering really is a part of Ukrainian culture. Or perhaps my grandfather was simply a cheapskate… just like me.