Update: Thank you all for entering, and congratulations to the winner: Ally from Victoria, Australia!
Readers!! I'm so excited to give you the chance to win one of my all-time favorite items to have on set — the GoldFold AD Wallet!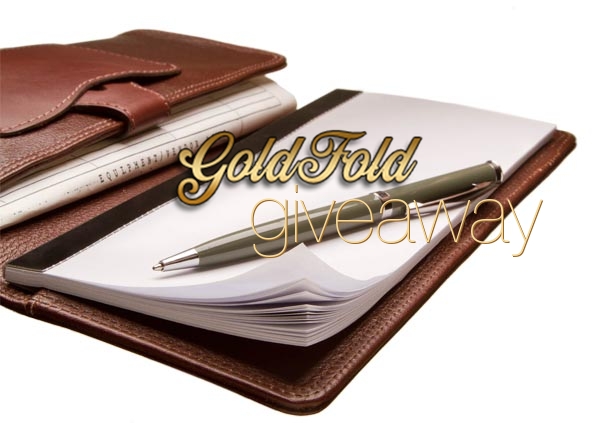 I remember the first time I saw a GoldFold. It was the summer of 2008, back when I was a naive, wide-eyed production assistant. I was constantly darting around set, moving things, grabbing things, running with things I probably shouldn't have been. My hands were always full, but I knew I needed to have call sheet, sides, and spare paper with me at all times. I tried to fold the pieces of paper carefully in my pocket, but they'd always get crumpled up. It's embarrassing when an executive asks you for an extra call sheet and it's a wadded mess!
And that was when I saw it. Sticking out of the back pocket of the 1st AD — the GoldFold.
In it were the schedule, call sheet, and sides — and any other papers needed. The AD would calmly pull the call sheet wallet out of their back pocket for reference, and stick it back without worry.
It was then that I knew I needed a GoldFold.
What is the GoldFold?
A beloved tool used by assistant directors on film, commercial, and television sets around the nation, the GoldFold stands alone as the original and highest quality call sheet wallet on the market. Designed by a DGA 1st AD, the GoldFold is the perfect tool for keeping your call sheets, schedules, and notes crisp– despite being folded in your pocket.
Each GoldFold is individually hand crafted from leather and outfitted with strong magnets to keep your on set paperwork tidy. They normally retail for $150, but to celebrate this year's re-release and the holiday season, Travis Gold himself has graciously agreed to share the GoldFold love with one lucky Needle Girl Haystack World reader!
To Enter:
Utilizing the nifty little Rafflecopter widget below, you can choose how you'd like to enter by doing one of the following:
Sign up for the GoldFold newsletter at GoldFold.com (gets you the most amount of entries!)
Tweet about the contest
Like Needle Girl, Haystack World on Facebook
Follow @needlegirlHW on Twitter
Leave a comment below
You can even do everything to maximize your number of entries, thereby giving you a higher probability of winning. You can also tweet about the contest every day for an additional +5 entries EVERY DAY until the contest ends on December 10th at 12am EST.
Good luck!!