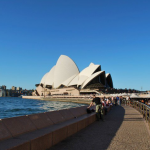 A beautiful autumn day back in Sydney. I'm so elated to be back with my couchsurf family — all four of us hailing from different continents, where nearly every conversation is a lively and educating one– otherwise, it's completely ridiculous and it's probably the Brazilian's fault.
Seeing Switchfoot tonight, which is a bit surreal. I keep peering around every corner hoping to catch a glimpse of them ambling around the city, but no luck so far. I think I missed my chance at Snapper.
Seeing my favorite band in my favorite city in a country I've been dying to visit for 12 years.
Life is good.