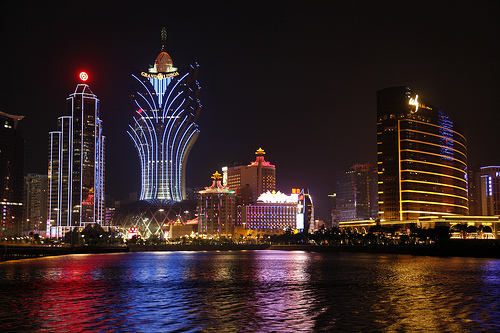 For years, I've listened as friends have planned their getaway trips to Las Vegas. While Vegas screams nightlife, I'd rather spend my money on a destination that offers a melting pot of vibrancy and culture rather than mere decadence.
Asia is the next continent on my travel wish-list. In addition to hitting up the Southeast backpacker trail, Macau is a destination that has piqued my interest for years.  Its curious history coupled with fascinating attractions makes it all the more appealing to me.
Fascinating History: Where West Meets East
Vegas has only been a destination for less than 100 years, but Macau has been home to civilizations stretching as far back as 200 BC. Macau was a Portuguese territory until 1999, when it was handed over to Mainland China. This recent fusion of Western Europe and Mainland China is evident everywhere, and with several temples, fortresses, parks, and museums dotting the peninsula, I'd be in heaven walking the streets and noting the contrasting characteristics– especially as a person that has to get a large dose of unique architecture on my travels.
Vibrant Casinos and Nightlife
Macau has emerged as the top casino and gambling destination of the world, amassing more revenue per year than Las Vegas.  Macau is home to over three dozen casinos, and has become a haven for casual and serious gamblers alike. Macau offers a game for everyone, from blackjack to poker to slot machines much like those found online (such as www.jackpotcity.co.uk/online-slots).
Macau's nightlife scene is also fully-charged: There's Club Cubic, an elite and expansive club that draws performances from world-renowned artists and DJs; the lavish China Rogue that's members-only; and the Lion's Bar, home to a fantastic cover band, endless dancing, and the world's most expensive cocktail.
Easy and Safe to Visit
Macau is also an easy destination to visit as a foreigner. China requires a pricey visa acquired in advance, but Macau and Hong Kong have separate immigration policies that allow citizens of the UK, US, and EU to visit without a visa for varying durations.
Macau's desire for tourism has also resulted in cleaner streets: while petty crimes can happen anywhere, Macau has a staunch police presence to detract criminals from targeting visitors.
Summary
As a Westerner that has only visited Western countries, I'm convinced Macau would be the perfect introduction to Asia. It has the allure of Vegas, but with cultural and historical significance.
This post was sponsored by a third party.