Just as working in production is quite different from the average 9-5, the resume format is also unique. The production resume — including the production assistant resume — is basic and utilitarian, which is good news for those of us that aren't innate graphic designers. The credits speaks for themselves.
Here's a minimalistic example: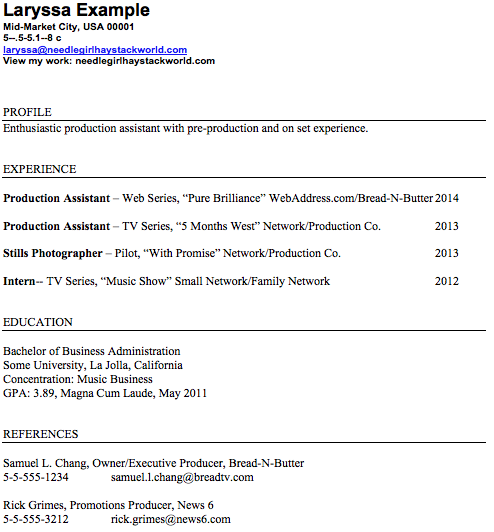 Basic Rules for Your Production Assistant Resume
Most importantly: Keep the resume to 1 page!
Also, this is JUST a basic template — alter it to suit your needs and speak to your own abilities. Change the spacing, draw more lines, shrink the education section, add another column to fit more credits. The point of a production resume is that your experience is presented in an organized, coherent manner.
I kept the "PROFILE" section concise for generality's sake. Beef it up with jobs you've specifically done in the office or on set. For example: helping with casting, scouting locations, watching first team, managing walkies, etc.
Under "EXPERIENCE", this resume's order is: Job Title, Format, Title, Network, Production Company, Year Released. This is the relevant information every resume should have. The order can be varied, and you can group your credits with job title headings.
For "REFERENCES", 2-3 references is the norm. Professors are fine to use to get that first internship, but try to stick to industry folks after graduating.
Once you've worked on an array of projects, it's important to tailor your resume to fit the job you're applying for. I have an equal amount of field producing experience as I do in post production, but if I'm applying for a job in the field, I'll make sure the resume reflects mostly similar jobs with a little bit of post mixed in.
(You also don't need to have a reel, but if your goal is to become a DP or director then you should put one together as soon as possible.)
Student Film Credits on Professional Production Resumes
Credits on student films can really make the difference in filling out a page, especially in the beginning of your career. In my opinion, it's acceptable to include those on your professional resume at first — it shows you have interest and are pursuing the craft.
However, list those credits at the bottom of your experience, beneath the paid gigs. Why? No one is impressed by a "Director" credit on a short film or a student film. And if your resume is comprised of all "Director" credits, why are you pursuing a production assistant job?
LinkedIn / IMDB
I've never gotten a job based on my profile on LinkedIn, but interviewers have checked it out beforehand to see what colleagues we have in common. I have a basic summary of my credits on my LinkedIn, and I'm a little more candid in explaining my goals, my strengths, and what I love about doing the job. I also have a very brief listing of my credits from the last two years.
IMDB isn't used often on a professional level, but it's a helpful tool for the masses that want to look up information about independent films. I've also known one clever gal who would erase her PA credits because she only wanted to be known as an executive producer in the future!
Volunteer Work
While you're a better person and leading a richer life for doing it, volunteer work isn't typically listed on production resumes unless it relates to film, film festivals, or production.
Have a Question?
Ask in the comments below, join the Facebook group, or shout at me on Twitter!