In 2011, I wrote a post about wanting to explore the Natchez Trace. Last month, I finally did it – about 260 miles of it.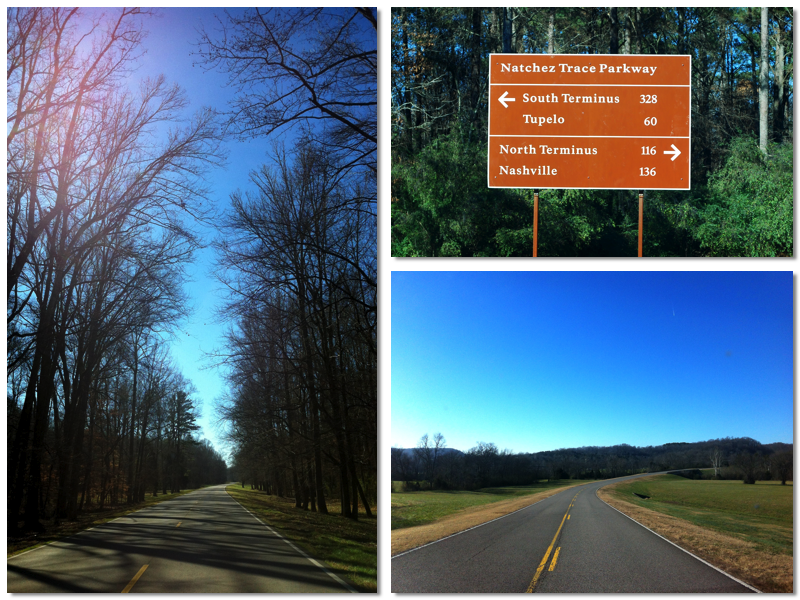 The Natchez Trace Parkway is a historical scenic highway, stretching 444 miles long. It begins in Nashville and ends in Natchez, Mississippi. It's known for being a nice, quiet, leisurely drive – and in that regard, it didn't disappoint!
Immediately, I couldn't believe how relaxing it was to drive at 55mph, without tractor trailers or commercial vehicles of any kind. There are no distractions on the Trace; no neon signs, fast food restaurants, hotels or gas stations…  just my car, Simon and Garfunkel, and the open road. I could breathe.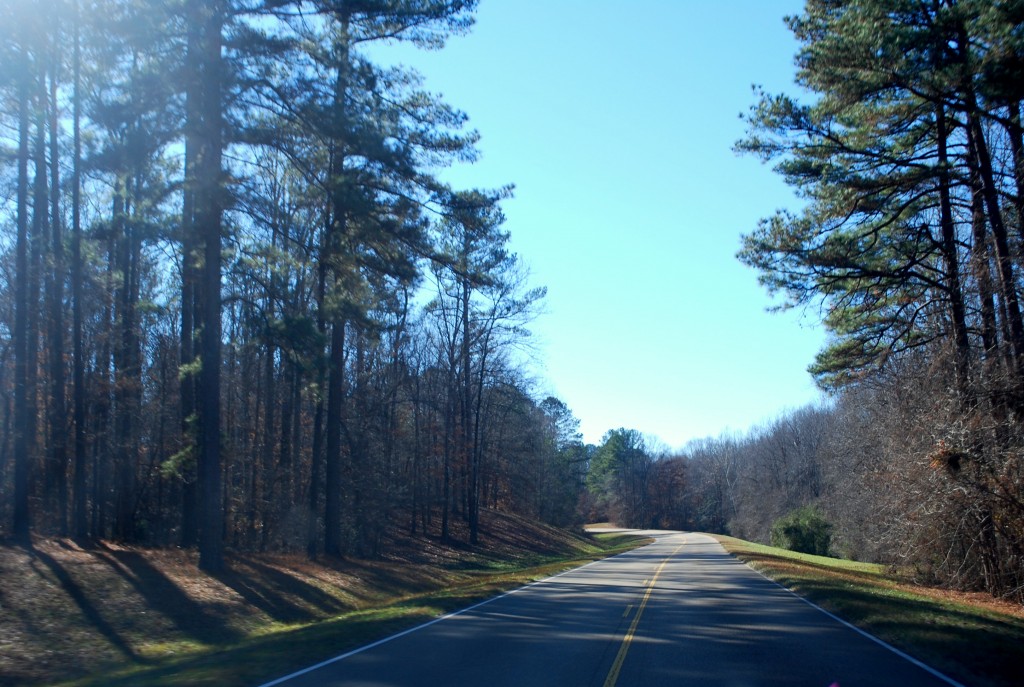 There are numerous historical stops and lookout points along the Trace, and I made four myself – two of which were still in Tennessee.
The second stop was one I've been interested in since I learned it was on the Trace: the place where Meriwether Lewis met his unfortunate/bizarre end. Definitely worth a stop for history buffs, or to pay homage to one of the greatest American explorers.
The Trace is beautifully slow. It were as though I was driving through a painting, even in the dead of winter. It's not a road taking you anywhere fast. It's about the journey.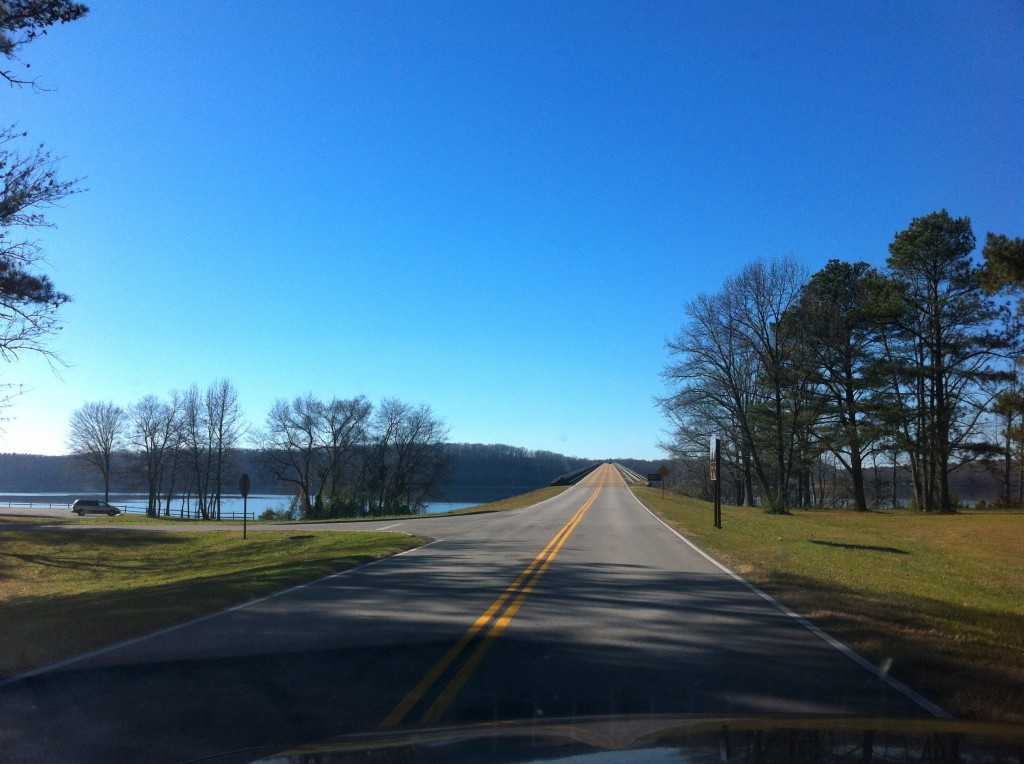 It's time to get lost in your thoughts and imagination, and wonder about the different types of people who traversed this ancient path throughout the centuries. I was constantly being gripped by the historical elements along the trail, especially when I stumbled across the Pharr Mounds.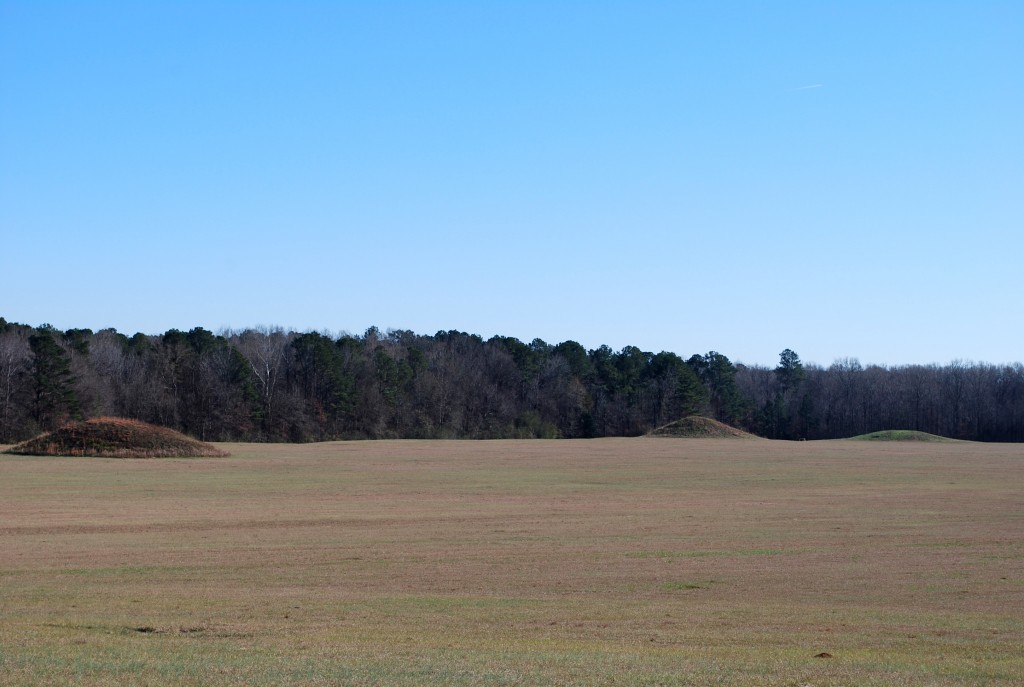 Just dirt piles, you say? They're ancient burial grounds for a tribe of nomadic Indian hunters, dating back 2,000 years!
Thing I Wish I'd Done #1: Brought a Map.
The Natchez Trace Parkway goes through remote places in the Deep South that are still hidden from the reach of cell phone towers. It's great if you're trying to escape the digital age, but it's not so good if you're trying to load Google Maps when you're low on gas or in DESPERATE need of a restroom. (Let's just say Hernando De Soto isn't the only one who's roughed it in Northern Mississippi…)
Thing I Wish I'd Done #2: Gotten off the Trace near Tupelo, rather than in the middle of nowhere.
The signs along the Trace for anything off the Trace are not very informative at all, exit signs merely tell you the route number and the name of the nearby town, but offer no clues if it's worth your time to get off there. And once you do decide to get off the Trace onto a random road, there is no way of knowing which direction to go for gasoline, food – anything. Since Hattiesburg was my end destination, I got off the Trace about half an hour south of Tupelo. There's no main roads in that area, and consequently, I spent an hour on country roads through the sticks, until I finally rolled into semblance of society somewhere outside of Starkville. But it's all part of the adventure, right?